Our Daily Bread
Five-Finger Prayers
Tue, 27 Jun 2017 00:00:00 +0000
Prayer is a conversation with God, not a formula. Yet sometimes we might need to use a "method" to freshen up our prayer time. We can pray the Psalms or other Scriptures (such as The Lord's Prayer), or use the ACTS method (Adoration, Confession, Thanksgiving, and Supplication). I recently came across this "Five-Finger Prayer" to use as a guide when praying for others:
• When you fold your hands, the thumb is nearest you. So begin by praying for those closest to you—your loved ones (Phil. 1:3–5).
• The index finger is the pointer. Pray for those who teach—Bible teachers and preachers, and those who teach children (1 Thess. 5:25).
• The next finger is the tallest. It reminds you to pray for those in authority over you—national and local leaders, and your supervisor at work (1 Tim. 2:1–2).
• The fourth finger is usually the weakest. Pray for those who are in trouble or who are suffering (James 5:13–16).
• Then comes your little finger. It reminds you of your smallness in relation to God's greatness. Ask Him to supply your needs (Phil. 4:6, 19).
Whatever method you use, just talk with your Father. He wants to hear what's on your heart.
Very Good!
Mon, 26 Jun 2017 00:00:00 +0000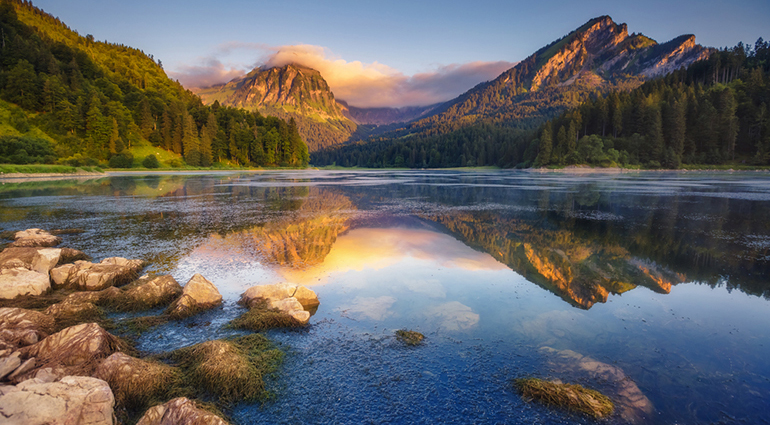 Some days seem to have a theme running through them. Recently I had one of those days. Our pastor began his sermon on Genesis 1 with two minutes of breath-taking, time-lapse photography of blossoming flowers. Then, at home, a scroll through social media revealed numerous posts of flowers. Later on a walk in the woods, the wildflowers of spring surrounded us—trilliums, marsh marigolds, and wild iris.
God created flowers and every other variety of vegetation (and dry ground to grow in), on the third day of creation. And twice on that day, God pronounced it "good" (Gen. 1:10, 12). On only one other day of creation—the sixth—did God make that double pronouncement of "good" (vv. 24, 31). In fact, on this day when He created man and His masterpiece was complete, He looked over all He had made and "saw that it was very good!"
In the creation story, we see a Creator God who delighted in His creation—and seemed to take joy in the very act of creating. Why else design a world with such colorful and amazing variety? And He saved the best for last when He "created mankind in his own image" (v. 27). As His image-bearers we are blessed and inspired by His beautiful handiwork.
Soaking Up God's Word
Sun, 25 Jun 2017 00:00:00 +0000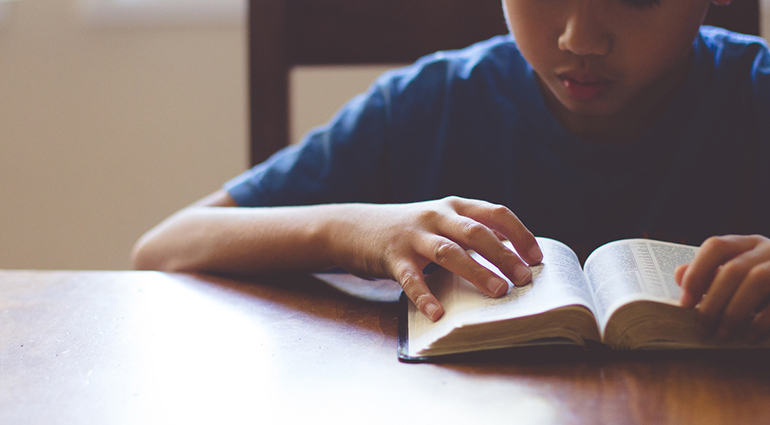 When our son Xavier was a toddler, we took a family trip to the Monterey Bay Aquarium. As we entered the building, I pointed to a large sculpture suspended from the ceiling. "Look. A humpback whale."
Xavier's eyes widened. "Enormous," he said.
My husband turned to me. "How does he know that word?"
"He must have heard us say it." I shrugged, amazed that our toddler had soaked up vocabulary we'd never intentionally taught him.
In Deuteronomy 6, God encouraged His people to be intentional about teaching younger generations to know and obey the Scriptures. As the Israelites increased their knowledge of God, they and their children would be more likely to grow in reverence of Him and to enjoy the rewards that come through knowing Him intimately, loving Him completely, and following Him obediently (vv. 2–5).
By intentionally saturating our hearts and our minds with Scripture (v. 6), we will be better prepared to share God's love and truth with children during our everyday activities (v. 7). Leading by example, we can equip and encourage young people to recognize and respect the authority and relevance of God's unchanging truth (vv. 8–9).
As God's words flow naturally from our hearts and out of our mouths, we can leave a strong legacy of faith to be passed down from generation to generation (4:9).
Here to Serve
Sat, 24 Jun 2017 00:00:00 +0000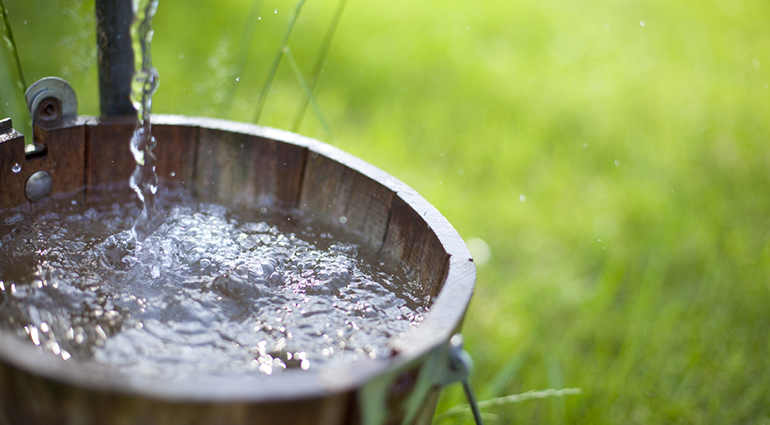 It was time for our church to commission a new group of leaders. To symbolize their roles as servant-leaders, the church elders participated in a memorable foot-washing ceremony. Each of the leaders—including the pastor—washed each other's feet as the congregation observed them.
What they did that day was modeled for us by Jesus Christ, as recorded in John 13. In that incident, which happened at what is called the Last Supper, Jesus "got up from the meal, . . . poured water into a basin and began to wash his disciples' feet" (John 13:4–5). Later, as Jesus was explaining to His disciples why he had done this, He said, "No servant is greater than his master, nor is a messenger greater than the one who sent him" (v. 16). He also said, "I am among you as one who serves" (Luke 22:27).
If it is not below Jesus's dignity to do such a lowly task, it is not below any of us to serve others. What an amazing example He set for all of us. Indeed, He "did not come to be served, but to serve" (Mark 10:45). He showed us what it means to be a leader and a servant. That's Jesus, the One who serves.
Playing in Concert
Fri, 23 Jun 2017 00:00:00 +0000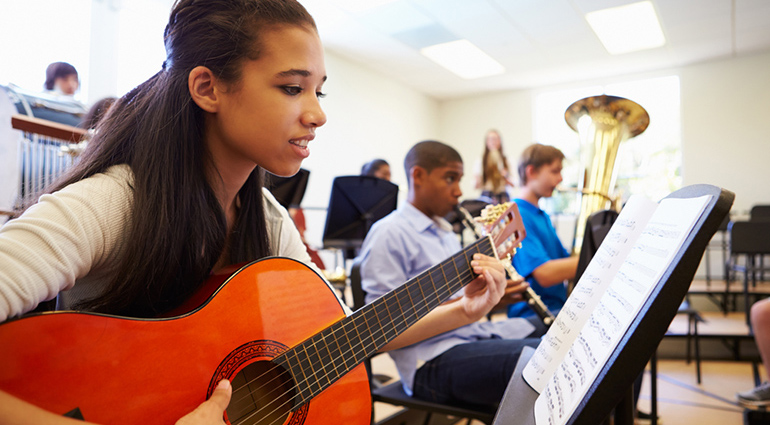 During our granddaughter's school band concert, I was impressed by how well this group of 11- and 12-year-olds played together. If each of them had wanted to be a solo performer, they could not have achieved individually what the band did collectively. The woodwinds, brass, and percussion sections all played their parts and the result was beautiful music!
To the followers of Jesus in Rome, Paul wrote, "In Christ we, though many, form one body, and each member belongs to all the others. We have different gifts, according to the grace given to each of us" (Rom. 12:5–6). Among the gifts Paul mentioned are prophecy, service, teaching, encouragement, giving, leadership, and mercy (vv. 7–8). Each gift is to be exercised freely for the good of all (1 Cor. 12:7).
One definition of in concert is "agreement in design or plan; combined action; harmony or accord." That's the Lord's plan for us as His children though faith in Jesus Christ. "Be devoted to one another in love. Honor one another above yourselves" (v. 10). The goal is cooperation, not competition.
In a sense, we are "on stage" before a watching and listening world every day. There are no soloists in God's concert band, but every instrument is essential. The music is best when we each play our part in unity with others.
Silence
Thu, 22 Jun 2017 00:00:00 +0000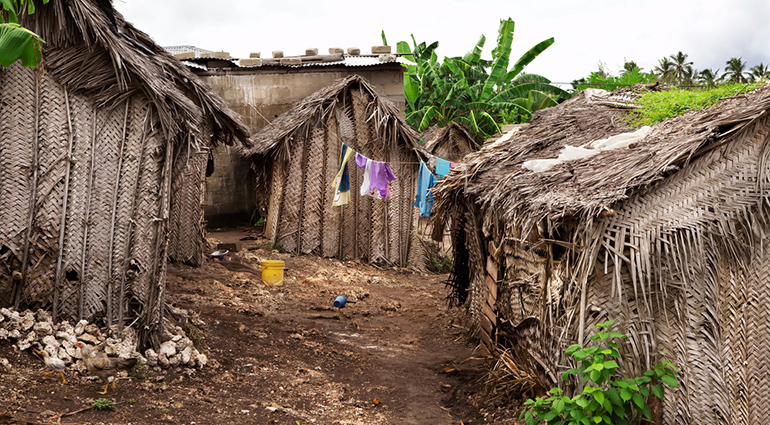 Skittish chickens scattered as relief trucks clattered past the weathered huts of the village. Barefoot children stared. Traffic on this rain-ravaged "road" was rare.
Suddenly, a walled mansion loomed into view of the convoy. It was the mayor's house—although he didn't live in it. His people lacked basic necessities, while he lounged in luxury in a distant city.
Such unfairness angers us. It angered God's prophet too. When Habakkuk saw rampant oppression he asked, "How long, Lord, must I call for help, but you do not listen?" (Hab. 1:2). But God had noticed, and He said, "Woe to him who piles up stolen goods . . . who builds his house by unjust gain!" (2:6, 9). Judgment was coming!
We welcome God's judgment of others, but there's a pivot point in Habakkuk that gives us pause: "The Lord is in his holy temple; let all the earth be silent before him" (2:20). All the earth. The oppressed along with oppressors. Sometimes the appropriate response to God's seeming silence is . . . silence!
Why silence? Because we easily overlook our own spiritual poverty. Silence allows us to recognize our sinfulness in the presence of a holy God.
Habakkuk learned to trust God, and we can too. We don't know all His ways, but we do know that He is good. Nothing is beyond His control and timing.
Sharing a Cup of Comfort
Wed, 21 Jun 2017 00:00:00 +0000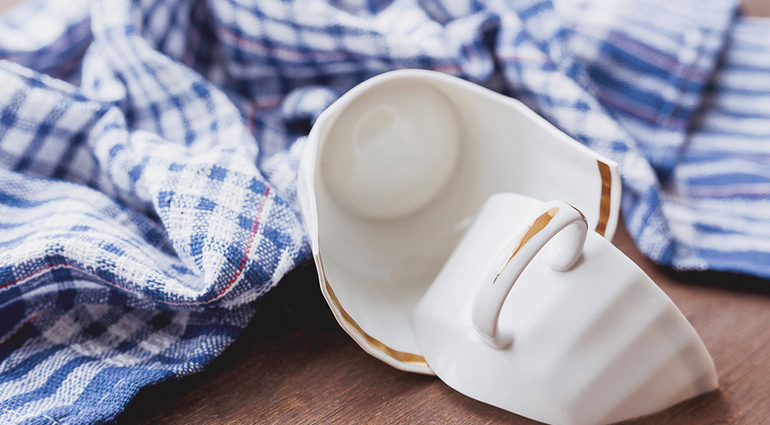 A friend mailed me some of her homemade pottery. Upon opening the box, I discovered the precious items had been damaged during their journey. One of the cups had shattered into a few large pieces, a jumble of shards, and clumps of clay dust.
After my husband glued the broken mess back together, I displayed the beautifully blemished cup on a shelf. Like that pieced-together pottery, I have scars that prove I can still stand strong after the difficult times God's brought me through. That cup of comfort reminds me that sharing how the Lord has worked in and through my life can help others during their times of suffering.
The apostle Paul praises God because He is the "Father of compassion and the God of all comfort" (2 Cor. 1:3). The Lord uses our trials and sufferings to make us more like Him. His comfort in our troubles equips us to encourage others as we share what He did for us during our time of need (v. 4).
As we reflect on Christ's suffering, we can be inspired to persevere in the midst of our own pain, trusting that God uses our experiences to strengthen us and others toward patient endurance (vv. 5–7). Like Paul, we can be comforted in knowing that the Lord redeems our trials for His glory. We can share His cups of comfort and bring reassuring hope to the hurting.
Reason to Smile
Tue, 20 Jun 2017 00:00:00 +0000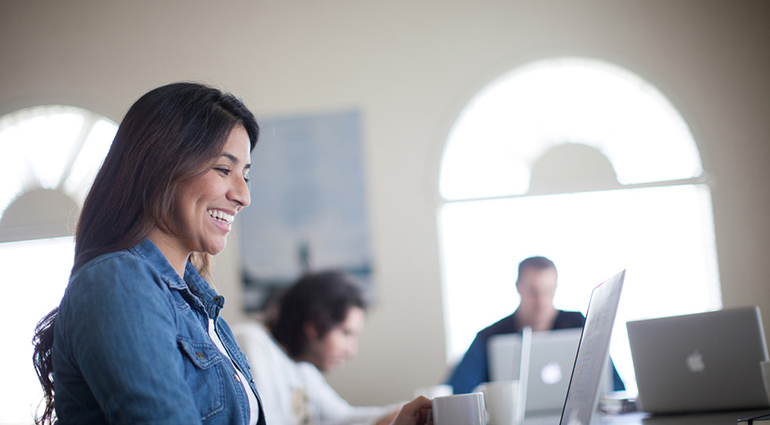 In the workplace, words of encouragement matter. How employees talk to one another has a bearing on customer satisfaction, company profits, and co-worker appreciation. Studies show that members of the most effective work groups give one another six times more affirmation than disapproval, disagreement, or sarcasm. Least productive teams tend to use almost three negative comments for every helpful word.
Paul learned by experience about the value of words in shaping relationships and outcomes. Before meeting Christ on the road to Damascus, his words and actions terrorized followers of Jesus. But by the time he wrote his letter to the Thessalonians, he had become a great encourager because of God's work in his heart. Now by his own example he urged his readers to cheer one another on. While being careful to avoid flattery, he showed how to affirm others and reflect the Spirit of Christ.
In the process, Paul reminded his readers where encouragement comes from. He saw that entrusting ourselves to God, who loved us enough to die for us, gives us reason to comfort, forgive, inspire, and lovingly challenge one another (1 Thess. 5:10–11). 
Paul shows us that encouraging one another is a way of helping one another get a taste of the patience and goodness of God.
Driven by God
Mon, 19 Jun 2017 00:00:00 +0000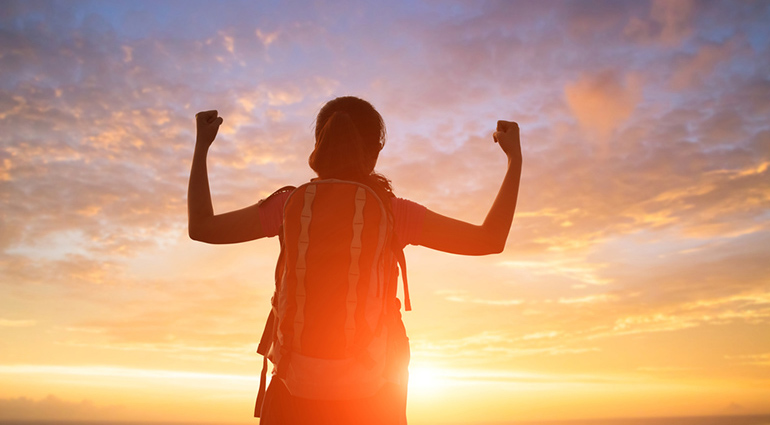 A few months ago I received an email inviting me to join a community of "driven people.' I decided to look up the word driven, and I learned that a driven person is someone highly motivated to succeed and who will work hard to achieve his goals.
Is it good to be a driven person? There is a test that never fails: "Do it all for the glory of God" (1 Cor. 10:31). Many times we do things for self-glory. After the flood in Noah's day, a group of people decided to build a tower in order to "make a name" for themselves (Gen. 11:4). They wanted to be famous and avoid being scattered all over the world. Because they were not doing it for God's glory, though, they were erroneously driven.
In contrast, when King Solomon dedicated the ark of the covenant and the newly constructed temple, he said, "I have built the temple for the Name of the Lord" (1 Kings 8:20). Then he prayed, "May he turn our hearts to him, to walk in obedience to him and keep the commands" (v. 58).
When our greatest desire is to bring glory to God and walk in obedience, we become driven people who seek to love and serve Jesus in the power of the Spirit. Let our prayer echo Solomon's. May our "hearts be fully committed to the Lord our God, to live by his decrees and obey his commands" (v. 61).
A Perfect Father
Sun, 18 Jun 2017 00:00:00 +0000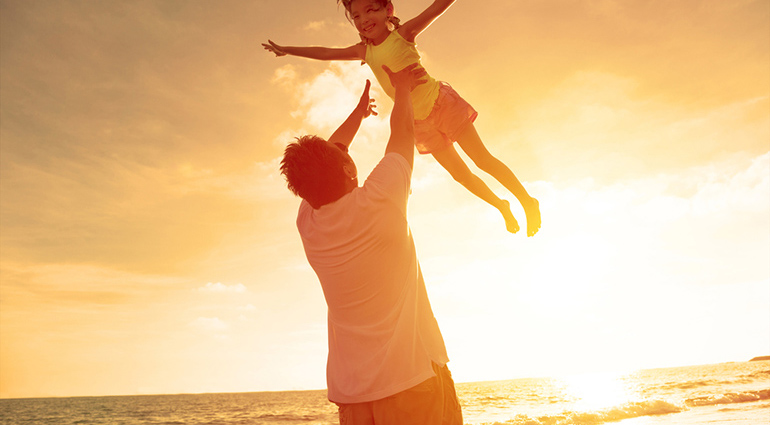 My father once admitted to me, "When you were growing up, I was gone a lot."
I don't remember that. Besides working his full-time job, he was gone some evenings to direct choir practice at church, and he occasionally traveled for a week or two with a men's quartet. But for all the significant (and many small) moments of my life—he was there.
For instance, when I was 8, I had a tiny part in an afternoon play at school. All the mothers came, but only one dad—mine. In many little ways, he has always let my sisters and me know that we are important to him and that he loves us. And seeing him tenderly caring for my mom in the last few years of her life taught me exactly what unselfish love looks like. Dad isn't perfect, but he's always been a dad who gives me a good glimpse of my heavenly Father. And ideally, that's what a Christian dad should do.
At times earthly fathers disappoint or hurt their children. But our Father in heaven is "compassionate and gracious, slow to anger, abounding in love" (Ps. 103:8). When a dad who loves the Lord corrects, comforts, instructs, and provides for the needs of his children, he models for them our perfect Father in heaven. 
rssfeedwidget.com