This Day in History
The Running of the First Chicago Marathon (1977)
Tue, 25 Sep 2018 05:00:00 GMT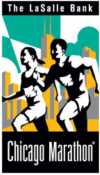 The largest marathon in the world at that time, the first running of the Mayor Daley Marathon—now the Bank of America Chicago Marathon—drew 4,200 participants. Since then it has grown both in size and prestige. The race is now capped at 45,000 runners and is considered one of the world's most renowned marathons. The 30th anniversary running of the race was unique in several respects. For one thing, it featured a special CEO challenge, and for another, it was halted after just 3 ½ hours. Why? Discuss
Gertrude of Merania Killed by Discontented Hungarian Nobles (1213)
Mon, 24 Sep 2018 05:00:00 GMT

The first wife of Andrew II of Hungary, Gertrude played an active role in the political machinations of his early reign. She used her influence to advance her German relatives at court and gifted Hungarian lands to them, angering the Hungarian nobility and inciting them to action. While her husband was off on a military campaign, Gertrude was murdered by a group of discontented nobles. The unsavory affair served as the inspiration for what Hungarian composer's famous opera, Bánk bán?
Merchant Royal
Sun, 23 Sep 2018 05:00:00 GMT

A holy grail of marine salvage, the wreck of the Merchant Royal, one of the most valuable of all time, has eluded treasure hunters for centuries. When the leaky, 17th-century English merchant ship sank in rough weather in the vicinity of the Isles of Scilly and southwestern England, she took with her a fabled cargo of gold, silver, and precious gems worth over a billion dollars today. Among the riches lost in the wreck was the money to pay whom?
rssfeedwidget.com