In the Groove, Jazz and Beyond
Duets plus
Sun, 11 Mar 2018 14:00:00 -0500
Before we get to the duets, we hear from one of my favorite JMac albums Demon's Dance. That is followed by two sax players with Connecticut roots. Nick Biello and Noah Preminger. Both have new recordings, Biello his premier, and Preminger with plenty. Then the duets: Preminger/Carlberg, Cohen/Hersch, Haden/Metheny. Salim Washington is back, and Sameer Gupta gives us Indian/Jazz fusion.
Playlist
Artist ~ Track ~ Album
Jackie McLean ~ Demon's Dance ~ Demon's Dance
Jackie McLean ~ Toyland ~ Demon's Dance
Nick Biello ~ Grandparents ~ Vagabond Soul
Noah Preminger ~ Walking on Eggshells ~ Genuinity
Noah Preminger ~ Ts and Her Spirit ~ Genuinity
Frank Carlberg and Noah Preminger ~ The Meaning of the Blues ~ Whispers and Cries
Anat Cohen and Fred Hersch ~ A Lark ~ live in healdsburg
Charlie Haden & Pat Metheny ~ Two for the Road ~ Beyond the Missouri Sky
Salim Wahi [...]
Blakey & Miles
Sun, 04 Mar 2018 11:02:46 -0500
A set of early Blakey and Miles. They are bookended by Lovano covering Trane and a Duet featuring Metheny and Mehldau. Finally a gorgeous rendition of Leonard Cohen's Halleluja as covered by the Manual Valera Trio.
Playlist
Artist ~ Track ~ Album
Joe Lovano Quartets ~ 26-2 ~ Live at the Village Vanguard
Art Blakey ~ Carol's Interlude ~ The Jazz Messengers
Art Blakey ~ The End of a Love Affair ~ The Jazz Messengers
Miles Davis ~ Oleo ~ Bags' Groove
Miles Davis ~ Blue in Green ~ Kind of Blue
Miles Davis ~ Footprints ~ Live in Europe 1967: Best of the Bootleg, Vol. 1
Miles Davis ~ On Green Dolphin Street ~ Live in Europe 1967: Best of the Bootleg, Vol. 1
Miles Davis ~ Joshua ~ Seven Steps to Heaven
Metheny Mehldau ~ A Night Away ~ Quartet
Manuel Valera Trio ~ Hallelujah ~ Seasons
The Gonz and more
Sun, 25 Feb 2018 12:59:02 -0500
At the center of this podcast is music from Jerry Bergonzi who performs on Monday nights at the Lillypad along with George Garzone and the Fringe. First we here from great pianists Harold Mabern, McCoy Tyner and Zaccai Curtis. Hartford's saxophonist Jovan Alexander preceeds the Bergonzi set. The podcast concludes with Manuel Valera (piano) and his trio.
Playlist 
Artist ~ Track ~ Album
Harold Mabern ~ Inner Glimpse ~ To Love and Be Loved
Harold Mabern ~ Dat Dere ~ To Love and Be Loved
McCoy Tyner ~ Song For My Lady ~ The Night Has a Thousand Eyes
The Curtis Brothers ~ The Wrath ~ Completion of Proof
Jovan Alexandre ~ Yalesville ~ Collective Conciousness
Jerry Bergonzi ~ Live Stream ~ Dog Star
Jerry Bergonzi ~ Doin' the Hen ~ Shifting Gears
Bergonzi, Calderazzo, Danielsson, Uotilo ~ The Lag ~ Fast Company
The Fringe ~ I loved You Yesterday ~ 40 Years on the Fringe
Ma [...]
Trane & Miles covers
Sun, 18 Feb 2018 08:27:33 -0500
Two of my favorite standards are covered here. Dig vocal and instrumental covers of Trane's Moment Notice, then Miles' So What. Following that is a jazz voyage with Hancock and Pharoah. Then we pay tribute to the victims and families of the Parkland shootings with music from Rob Garcia, Noah Baerman and Noah Preminger. The podcast concludes with Ellington's Jeep Blues.
Playlist
Artist ~ Track ~ Album
Pharoh Sanders ~ Moment's Notice ~ Rejoice
Hubert Laws ~ Moment's Notice ~ In The Beginning
Giacomo Gates ~ So What ~ Miles Tones
Harold Mabern ~ So What ~ To Love and Be Loved
Hank Mobley ~ Up A Step ~ No Room for Squares
Herbie Hancock ~ Maiden Voyage ~ Maiden Voyage
Herbie Hancock ~ First Trip ~ Speak Like a Child
Pharoah Sanders ~ Astral Traveling ~ Thembi
Rob Garcia ~ Guns Make Killing Easy ~ Finding Love in an Oligarchic Pla [...]
Runs the Jazz Gamut
Sun, 11 Feb 2018 11:20:33 -0500
This podcast runs the gamut of modern jazz styles. We begin with a classic piano trio from jazz master Ahmad Jamal. Then creative nonet arrangements from newcomer Dan Pugach. That is followed by early jazz/rock fusion from Herbie Hancock, Weather Report and George Duke. Finally you will hear guitarist Bill Frisell with his version of a surfer classic.
Playlist
Artist ~ Track ~ Album
Ahmad Jamal ~ Patterns ~ The Awakening
Ahmad Jamal ~ Stolen Moments ~ The Awakening
Dan Pugach Nonet ~ Jolene ~ Plus One
Dan Pugach Nonet ~ Zelda ~ Plus One
Herbie Hancock ~ Ostinato (Suite for Angela) ~ Mwandishi
Weather Report ~ Mysterious Traveler ~ Mysterious Traveler
Weather Report ~ Between the Thighs ~ Tale Spinin'
Weather Report ~ Gibraltar ~ Black Market
George Duke ~ Capricorn ~ Faces In Reflection
Bill Frisell ~ Pipeline ~ Guitar in the Space Age 
Nicole and Dan plus Jazz Grammys
Sun, 04 Feb 2018 10:19:11 -0500
Had a great time interviewing Nicole Zuraitis (vocals, piano) and her husband Dan Pugach (drums, arranger) about their new album releases and upcoming gigs. You will get to hear from their new CD's, Nicole's Hive Mind and Dan's Nonet Plus One. Following the interveiw is a review of the 2018 Grammy Awards in the Jazz categories. 
Opening Borders with Earl MacDonald
Sun, 28 Jan 2018 09:50:29 -0500
In this epidsode pianist, composer, arranger and educator Earl MacDonald joins me in an interesting discussion. We delve into Open Borders of the musical, political and social kind. By the way, Open Borders is the name of Professor MacDonalds latest album with a 10tet. We also put Earl through the Blindfold Test and get his reactions to a wide range of pianists and jazz styles.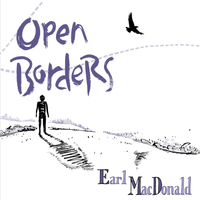 Truth matters
Sun, 21 Jan 2018 10:38:22 -0500
In these days of political chaos and division, truth does matter. We are reminded of that through music from Noah Baerman (Satyagrahi) and Kamasi Washington (Truth) at the center of this podcast. Those tunes are sandwiched between classic jazz from Miles and Blakey, and a jazz/fusion set featuring Haque, Mahavishnu and new from Chick/Gadd. 
Playlist
Artist ~ Track ~ Album
Miles Davis Quintet ~ Freedom Jazz Dance ~ Miles Smiles
Art Blakey ~ Nica's Dream ~ Jazz Messengers
Noah Baerman ~ Satyagrahi ~ Soul Force
Kamasi Washington ~ Truth ~ Harmony of Difference
Fareed Haque and the Flat Planet ~ The Chant ~ Flat Planet
Mahavishnu Orchestra ~ Hymn to Him ~ Apocalypse
The Chick Corea and Steve Gadd Band ~ A Spanish Song ~ Chinese Butterfly
MLK Day 2018
Sun, 14 Jan 2018 11:38:09 -0500
My annual podcast honoring Dr. Martin Luther King Jr, with jazz music. This year it takes on even more importance following the racism displayed by the man in the White House. Perhaps some good can come from this incident by awakening the good people of this country to stand up and resist racism and injustice in our society with non-violence as Dr. King would have wanted.
Playlist
Artist ~ Track ~ Album
John Coltrane ~ Alabama ~ The Gentle Side of John Coltrane
Noah Baerman ~ Wahington, 1963 ~ Soul Force
Herbie Hancock ~ I Have a Dream ~ The Prisoner
Martin Luther King Jr. ~ I Have a Dream Speach ~ n/a
Wallace Roney ~ I Have a Dream ~ If Only For One Night
Sonny Rollins ~ The Freedom Suite ~ Freedom Suite
Gil Scott-Heron ~ Peace Go With You, Brother ~ Winter In America
Joey DeFrancesco + The People ~ Project Freedom ~ Project Freedom
Noah Preminger ~ A Change I Gonna Come ~ Meditati [...]
JM 76 Birthday
Sun, 07 Jan 2018 10:01:02 -0500
This podcast celebrates the birthday of jazz fusion guitarist John McLaughlin. We play his music in several different settings to show the depth of his artistry and innovation. Most of this show has (Mahavishnu) John McLaughlin as a leader, but there are also tracks as a sideman. His work with Miles Davis is legendary. The podcast ends with an unrelated track from a CTI release of Milt Jackson playing Hubbard's Sunflower.
Playlist
Artist ~ Track ~ Playlist
John McLaughlin ~ Extrapolation ~ Extrapolation
John McLaughlin ~ Peace One ~ Our Goals Beyond
Mahavishnu Orchestra ~ Dawn ~ The Inner Mounting Flame
Shakti ~ The Daffodill and the Eagle ~ Natural Elements
Joe Farrell ~ Follow Your Heart ~ The Joe Farrell Quartet
Miles Davis ~ Miles Runs the Voodoo Down ~ Bitches Brew
Milt Jackson ~ Sunflower ~ Sunflower
My 2017 Favorite Releases
Mon, 01 Jan 2018 12:09:37 -0500
2017 was a great year for new jazz releases. There were so many great new albums that this extended podcast is 2 3/4 hours in length. Happy New Years to all my podcast listeners. Looking forward to more great music (and a change in politics) in the coming year.
Playlist
Artist ~ Track ~ Album 
Greg Abate and the Tim Ray Trio ~ Road to Forever  ~ Road to Forever
Billy Childs ~ The Windmills of Your Mind ~ Rebirth
Christian Sands ~ ¡Óyeme! ~ Reach
Christian Sands ~ Somewhere Out There ~ Reach
Harold Mabern ~ Dat Dere ~ To Love and Be Loved
Harold Mabern ~ So What ~ To Love and Be Loved
SFJAZZ Collective ~ Tutu ~ Music of Miles Davis & Original Compositions Live: SFJazz Center 2016
SFJAZZ Collective ~ Joshua ~ Music of Miles Davis & Original Compositions Live: SFJazz Center 2016
Hudson ~ El Swing ~ Hudson (feat. Jack DeJohnette, Larry Grenadier, John Medeski [...]
Best of 17 and Nutcracker
Sat, 23 Dec 2017 18:41:38 -0500
Let's begin with a Christmas tune from Hartford alumni "The Human Race" led by Dane Scazzari. Then some of the great releases of 2017. Finally you will hear in its entirety Ellington/Strayhorn's arrangement of the Nutcracker Suite, inspired by the Tchaikovsky classic.
Playlist
Artist ~ Track ~ Album
Dane Scazzari and the Human Race ~ Blue Christmas ~ It's Christmas Time Again
Christian Sands ~ Bud's Tune ~ Reach
Christian Sands ~ Use Me ~ Reach
Billy Childs ~ Starry Night ~ Rebirth
Joey Alexander ~ Ugly Beaurty ~ Joey.Monk.Live!
Vijay Iyer Sextet ~ Far From Over ~ Far from Over
Vijay Iyer Sextet ~ Nope ~ Far from Over
Noah Preminger ~ Womens March ~ Meditations on Freedom
Harmonie Ensemble/New York (Steven Richman, cond.) ~ Nutcracker Suite ~ Tchaikovsky/Ellington/Strayhorn Nutcracker Suite
rssfeedwidget.com