Silence
Thu, 22 Jun 2017 00:00:00 +0000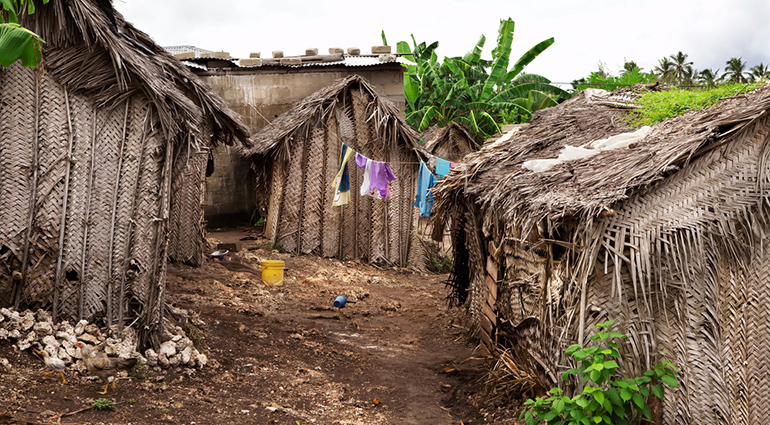 Skittish chickens scattered as relief trucks clattered past the weathered huts of the village. Barefoot children stared. Traffic on this rain-ravaged "road" was rare.
Suddenly, a walled mansion loomed into view of the convoy. It was the mayor's house—although he didn't live in it. His people lacked basic necessities, while he lounged in luxury in a distant city.
Such unfairness angers us. It angered God's prophet too. When Habakkuk saw rampant oppression he asked, "How long, Lord, must I call for help, but you do not listen?" (Hab. 1:2). But God had noticed, and He said, "Woe to him who piles up stolen goods . . . who builds his house by unjust gain!" (2:6, 9). Judgment was coming!
We welcome God's judgment of others, but there's a pivot point in Habakkuk that gives us pause: "The Lord is in his holy temple; let all the earth be silent before him" (2:20). All the earth. The oppressed along with oppressors. Sometimes the appropriate response to God's seeming silence is . . . silence!
Why silence? Because we easily overlook our own spiritual poverty. Silence allows us to recognize our sinfulness in the presence of a holy God.
Habakkuk learned to trust God, and we can too. We don't know all His ways, but we do know that He is good. Nothing is beyond His control and timing.
Sharing a Cup of Comfort
Wed, 21 Jun 2017 00:00:00 +0000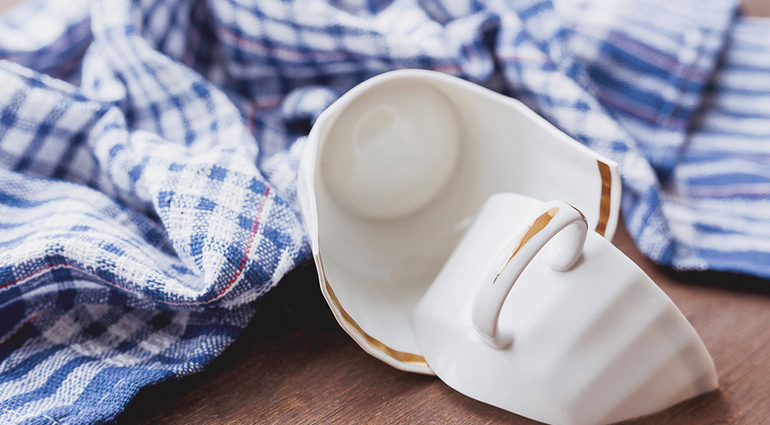 A friend mailed me some of her homemade pottery. Upon opening the box, I discovered the precious items had been damaged during their journey. One of the cups had shattered into a few large pieces, a jumble of shards, and clumps of clay dust.
After my husband glued the broken mess back together, I displayed the beautifully blemished cup on a shelf. Like that pieced-together pottery, I have scars that prove I can still stand strong after the difficult times God's brought me through. That cup of comfort reminds me that sharing how the Lord has worked in and through my life can help others during their times of suffering.
The apostle Paul praises God because He is the "Father of compassion and the God of all comfort" (2 Cor. 1:3). The Lord uses our trials and sufferings to make us more like Him. His comfort in our troubles equips us to encourage others as we share what He did for us during our time of need (v. 4).
As we reflect on Christ's suffering, we can be inspired to persevere in the midst of our own pain, trusting that God uses our experiences to strengthen us and others toward patient endurance (vv. 5–7). Like Paul, we can be comforted in knowing that the Lord redeems our trials for His glory. We can share His cups of comfort and bring reassuring hope to the hurting.
Reason to Smile
Tue, 20 Jun 2017 00:00:00 +0000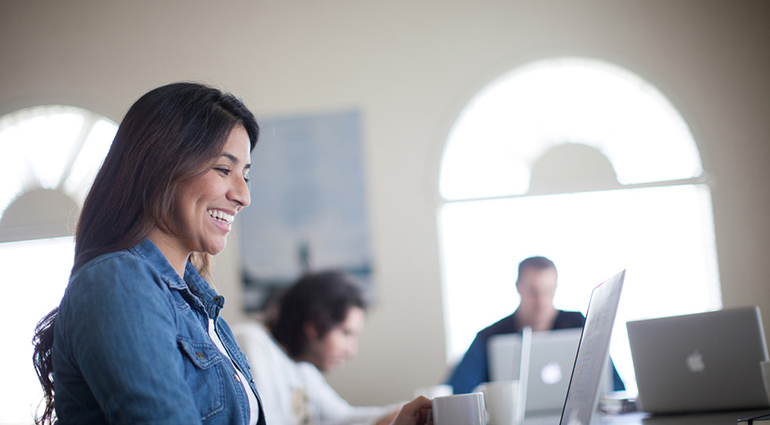 In the workplace, words of encouragement matter. How employees talk to one another has a bearing on customer satisfaction, company profits, and co-worker appreciation. Studies show that members of the most effective work groups give one another six times more affirmation than disapproval, disagreement, or sarcasm. Least productive teams tend to use almost three negative comments for every helpful word.
Paul learned by experience about the value of words in shaping relationships and outcomes. Before meeting Christ on the road to Damascus, his words and actions terrorized followers of Jesus. But by the time he wrote his letter to the Thessalonians, he had become a great encourager because of God's work in his heart. Now by his own example he urged his readers to cheer one another on. While being careful to avoid flattery, he showed how to affirm others and reflect the Spirit of Christ.
In the process, Paul reminded his readers where encouragement comes from. He saw that entrusting ourselves to God, who loved us enough to die for us, gives us reason to comfort, forgive, inspire, and lovingly challenge one another (1 Thess. 5:10–11). 
Paul shows us that encouraging one another is a way of helping one another get a taste of the patience and goodness of God.
Driven by God
Mon, 19 Jun 2017 00:00:00 +0000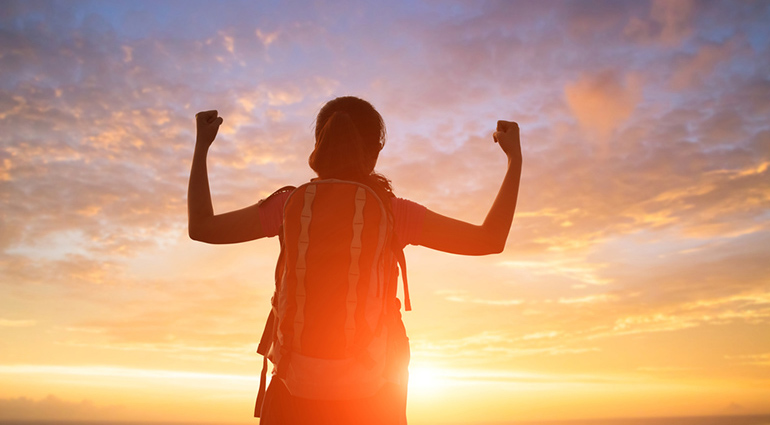 A few months ago I received an email inviting me to join a community of "driven people.' I decided to look up the word driven, and I learned that a driven person is someone highly motivated to succeed and who will work hard to achieve his goals.
Is it good to be a driven person? There is a test that never fails: "Do it all for the glory of God" (1 Cor. 10:31). Many times we do things for self-glory. After the flood in Noah's day, a group of people decided to build a tower in order to "make a name" for themselves (Gen. 11:4). They wanted to be famous and avoid being scattered all over the world. Because they were not doing it for God's glory, though, they were erroneously driven.
In contrast, when King Solomon dedicated the ark of the covenant and the newly constructed temple, he said, "I have built the temple for the Name of the Lord" (1 Kings 8:20). Then he prayed, "May he turn our hearts to him, to walk in obedience to him and keep the commands" (v. 58).
When our greatest desire is to bring glory to God and walk in obedience, we become driven people who seek to love and serve Jesus in the power of the Spirit. Let our prayer echo Solomon's. May our "hearts be fully committed to the Lord our God, to live by his decrees and obey his commands" (v. 61).
A Perfect Father
Sun, 18 Jun 2017 00:00:00 +0000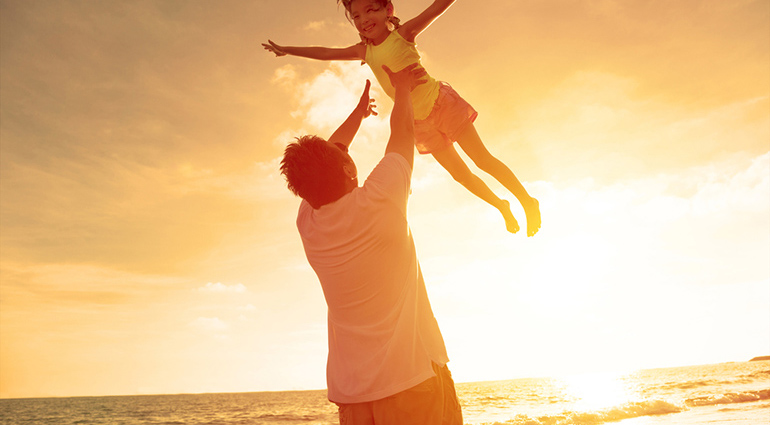 My father once admitted to me, "When you were growing up, I was gone a lot."
I don't remember that. Besides working his full-time job, he was gone some evenings to direct choir practice at church, and he occasionally traveled for a week or two with a men's quartet. But for all the significant (and many small) moments of my life—he was there.
For instance, when I was 8, I had a tiny part in an afternoon play at school. All the mothers came, but only one dad—mine. In many little ways, he has always let my sisters and me know that we are important to him and that he loves us. And seeing him tenderly caring for my mom in the last few years of her life taught me exactly what unselfish love looks like. Dad isn't perfect, but he's always been a dad who gives me a good glimpse of my heavenly Father. And ideally, that's what a Christian dad should do.
At times earthly fathers disappoint or hurt their children. But our Father in heaven is "compassionate and gracious, slow to anger, abounding in love" (Ps. 103:8). When a dad who loves the Lord corrects, comforts, instructs, and provides for the needs of his children, he models for them our perfect Father in heaven. 
Time Together
Sat, 17 Jun 2017 00:00:00 +0000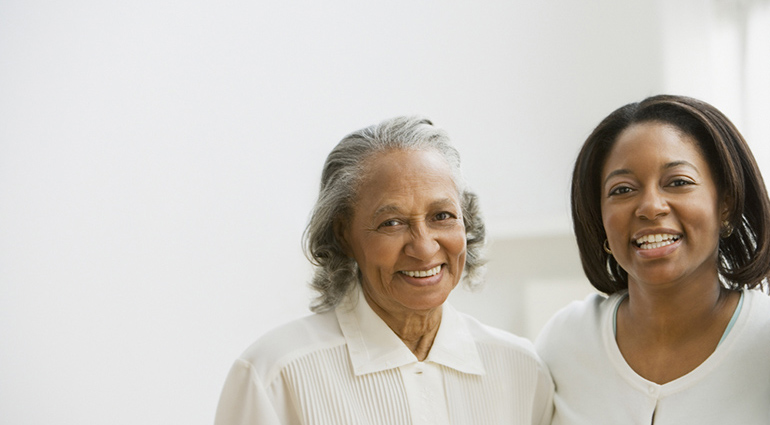 On the two-hour drive home from a family member's wedding, my mom asked me for the third time what was new in my job. I once again repeated some of the details as if telling her for the first time, while wondering what might possibly make my words more memorable. My mom has Alzheimer's, a disease that progressively destroys the memory, can adversely affect behavior, and eventually leads to the loss of speech—and more.
I grieve because of my mom's disease but am thankful she is still here and we can spend time together—and even converse. It thrills me that whenever I go to see her she lights up with joy and exclaims, "Alyson, what a pleasant surprise!" We enjoy each other's company; and even in the silences when words escape her, we commune together.
This perhaps is a small picture of our relationship with God. Scripture tells us, "The Lord delights in those who fear him, who put their hope in his unfailing love" (Ps. 147:11). God calls those who believe in Jesus as their Savior His children (John 1:12). And although we may make the same requests over and over again or lack for words, He is patient with us because He has a loving relationship with us. He is happy when we converse with Him in prayer—even when the words escape us.
Made Alive
Fri, 16 Jun 2017 00:00:00 +0000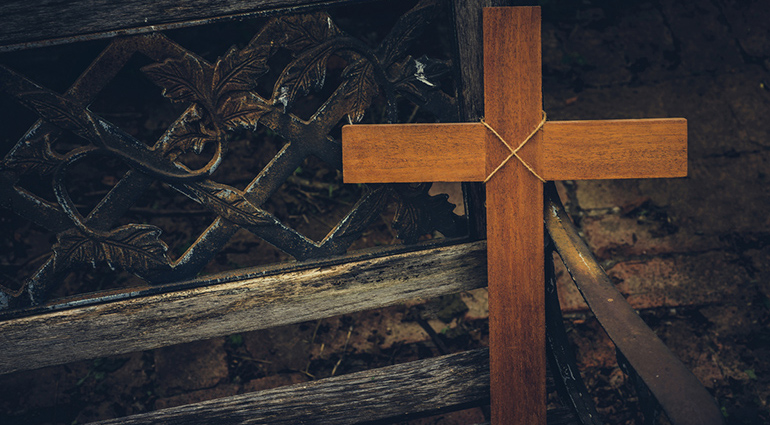 As a young man, my dad was traveling with a group of friends to an out-of-town sporting event when the tires of their car slipped on the rain-soaked roads. They had an accident—a bad accident. One of his friends was paralyzed and another was killed. My dad was declared dead and taken to the morgue. His shocked and grief-stricken parents came to identify him. But my dad revived from what turned out to be a deep coma. Their mourning turned to joy.
In Ephesians 2, the apostle Paul reminds us that apart from Christ we are "dead in [our] transgressions and sins" (v. 1). But because of his great love for us, "God, who is rich in mercy, made us alive with Christ even when we were dead in transgressions" (vv. 4-5). Through Christ we have been brought from death to life.
So in a sense, we all owe our life to the Father in heaven. Through His great love, He has made it possible for those of us who were dead in sin to have life and purpose through His Son.
The Bond of Peace
Thu, 15 Jun 2017 00:00:00 +0000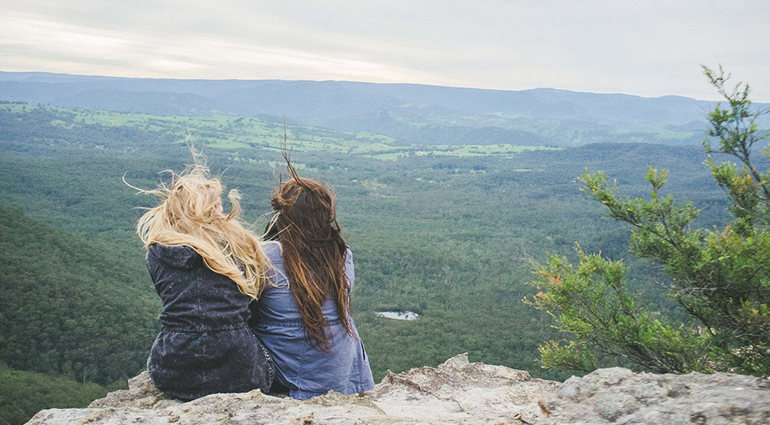 After I confronted my friend by email over a matter on which we had differed, she didn't respond. Had I overstepped? I didn't want to worsen the situation by pestering her, but neither did I want to leave things unresolved before she went on a trip overseas. As she popped into my mind throughout the following days, I prayed for her, unsure of the way forward. Then one morning I went for a walk in our local park and saw her, pain etched on her face as she glimpsed me. "Thank you, Lord, that I can talk to her," I breathed as I approached her with a welcoming smile. We talked openly and were able to resolve matters.
Sometimes when hurt or silence intrudes on our relationships, mending them seems out of our control. But as the apostle Paul says in his letter to the church at Ephesus, we are called to work for peace and unity through God's Spirit, donning the garments of gentleness, humility, and patience as we seek God's healing in our relationships. The Lord yearns for us to be united, and through His Spirit He can bring His people together—even unexpectedly when we go walking in the park.
Have you experienced an unexpected encounter that revealed God working in a situation? How might you work toward peace and unity today?
Rhythms of Grace
Wed, 14 Jun 2017 00:00:00 +0000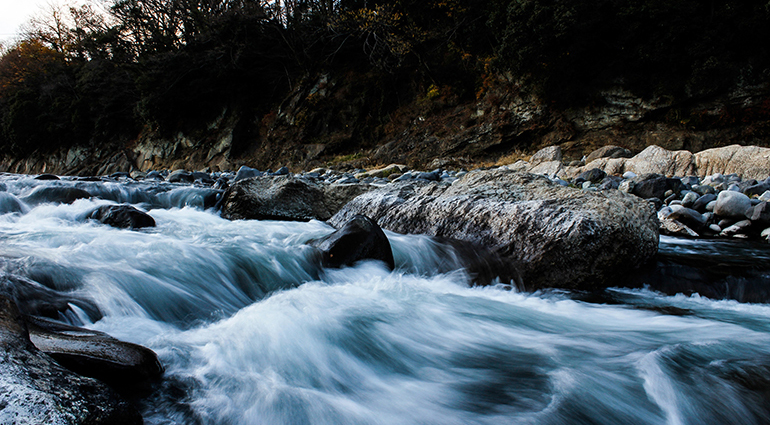 A friend and his wife, now in their early nineties and married for sixty-six years, wrote their family history for their children, grandchildren, and generations to come. The final chapter, "A Letter from Mom and Dad," contains important life-lessons they've learned. One caused me to pause and take inventory of my own life: "If you find that Christianity exhausts you, draining you of your energy, then you are practicing religion rather than enjoying a relationship with Jesus Christ. Your walk with the Lord will not make you weary; it will invigorate you, restore your strength, and energize your life" (Matt. 11:28–29).
Eugene Peterson's paraphrase of Jesus's invitation in this passage begins, "Are you tired? Worn out? Burned out on religion? . . . Walk with me and work with me. . . . . Learn the unforced rhythms of grace."
When I think that serving God is all up to me, I've begun working for Him instead of walking with Him. There is a vital difference. If I'm not walking with Christ, my spirit becomes dry and brittle. People are annoyances, not fellow humans created in God's image. Nothing seems right.
When I sense that I'm practicing religion instead of enjoying a relationship with Jesus, it's time to lay the burden down and walk with Him in His "unforced rhythms of grace."
Consider the Clouds
Tue, 13 Jun 2017 00:00:00 +0000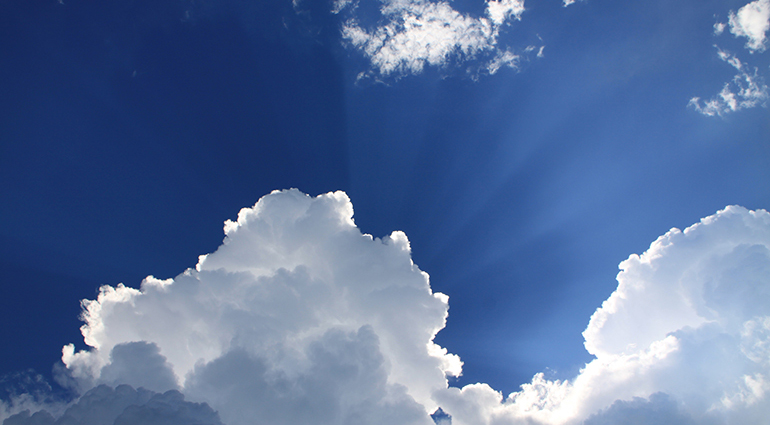 One day many years ago my boys and I were lying on our backs in the yard watching the clouds drift by. "Dad," one asked, "why do clouds float?" "Well, son," I began, intending to give him the benefit of my vast knowledge, but then I lapsed into silence. "I don't know," I admitted, "but I'll find out for you."
The answer, I discovered, is that condensed moisture, descending by gravity, meets warmer temperatures rising from the land. That moisture then changes into vapor and ascends back into the air. That's a natural explanation for the phenomenon.
But natural explanations are not final answers. Clouds float because God in His wisdom has ordered the natural laws in such a way that they reveal the "wonders of him who has perfect knowledge" (Job 37:16). Clouds then can be thought of as a symbol—an outward and visible sign of God's goodness and grace in creation.
So someday when you're taking some time to see what images you can imagine in the clouds, remember this: The One who made all things beautiful makes the clouds float through the air. He does so to call us to wonder and adoration. The heavens—even the cumulus, stratus, and cirrus clouds—declare the glory of God.
rssfeedwidget.com