Guess What Happened When New York Put Homeless People In Luxury Hotels
Mon, 10 Aug 2020 01:50:00 +0000
Guess What Happened When New York Put Homeless People In Luxury Hotels
Tyler Durden
Sun, 08/09/2020 - 21:50
Authored by Rick Moran via PJMedia.com,
The homeless problem in New York City is bad and getting worse.
City leaders decided to fix the problem by putting up hundreds of sex offenders, mental patients, and drug addicts in Manhattan luxury hotels.
How's that working out for ya?
Upper West Side residents say three hotels that are housing hundreds of homeless men during the coronavirus pandemic have turned the area into a spectacle of public urination, catcalling and open drug use.

Among those staying at the luxury Belleclaire on Broadway and the Lucerne on West 79th Street, and the more down-market Belnord on West 87th Street, are people who are mentally ill, recovering from drug addictions, and registered sex offenders.

Ten sex offenders are staying in a single hotel — the Belleclaire, which is just one block from the playground of PS 87.
Yikes.
A nanny in the genteel neighborhood told of being offered crack while with her two-year-old charge.
"It doesn't feel safe anymore," nanny Michele McDowall, 39, told The Post.

She said she was recently offered crack by a pair of homeless men as she wheeled a toddler along Riverside Park at 79th Street.

"You want to buy crack?" she said they shouted repeatedly as she hurried past, and as the frightened 2-year-old girl in the stroller put her hands over her ears and cried, "Too loud!"
Nice.
But maybe the finger of blame should also be pointed at the Department of Homeland Security, which is paying 75 percent of the costs of this social experiment.
"The DHS is a rogue agency," one local community board member said of the homeless influx, noting that residents were given no input and little or no notice of the move.

The board member, who asked to not be identified by name, said they were told the city was paying the hotels $175 a day per homeless person or "two guys in a room at $350 a day."

"You do the math," the board members said. "It's a lot of money."
Obviously, residents of the neighborhood are insufficiently woke. If homeless people want to urinate or defecate on the sidewalk or in the street, or on your front steps, who are you to say they can't?
What has really upset residents in the neighborhood has been housing 10 sex offenders a block from a public school. What genius thought that one up?
There are also four offenders whose victims were children: Ronald Butler, 62,  convicted in June 2013 of raping a 16-year-old girl; Eddie Daniel, 59, convicted of abusing a 10-year-old in 2011; Jonathan Evans, 29, convicted of abusing a 6-year-old; and Michael Hughes, 55, convicted of possessing child pornography in 2007.

"I tell my 10-year old, 'I'll be back in two minutes' — I guess I won't do that anymore," mom Mariane Dabo told The Post at the playground after learning of the sex offenders. "It's scary."
A group of rabbis asked to see the mayor. No response. The local PTA sent a concerned letter. It was ignored.
Maybe Mayor de Blasio and his administration are too humiliated to answer.
Shipments Of 20,000 Fake IDs From China Seized By Feds Ahead Of Election
Mon, 10 Aug 2020 01:25:00 +0000
Shipments Of 20,000 Fake IDs From China Seized By Feds Ahead Of Election
Tyler Durden
Sun, 08/09/2020 - 21:25
With 85 days until the presidential election, fears are increasing that foreign adversaries, such as China, Russia, and Iran, could attempt to undermine the election. 
Foreign states, more specifically China, could use covert and overt measures to sway votes from President Trump.
Already, there was an incident in June, when Chinese video app TikTok saw users band together and falsely reserve tickets for President Trump's rally in Tulsa, Oklahoma, which resulted in an embarrassingly low turnout. As a result, the administration when on the offensive against the app and has since signed an executive order to ban it next month. 
China could also be attempting to undermine the election by sending counterfeit driver's licenses to the U.S. So far, the Customs and Border Protection (CBP) officers working at Chicago O'Hare International Airport have intercepted close to 20,000 counterfeit U.S. driver's licenses shipped from China this year, reported FOX 5 New York. 
Hidden within contents of packages arriving via international cargo, the counterfeit driver's licenses were shipped mainly from Hong Kong and mainland China. Other shipments came from South Korea and the U.K.
"These counterfeit driver's licenses can lead to disastrous consequences," CBP's Ralph Piccirilli said in a statement.

"Criminal organizations use these counterfeit I.D.s to avoid attracting attention to their illegal activities."
While many of the driver's licenses were for underage college students, there was an alarming discovery as one was able to be scanned. 
"These fraudulent identity documents can lead to identity theft, worksite enforcement, critical infrastructure protection, fraud linked to immigration-related crimes such as human smuggling and human trafficking," CBP said in a press release, adding that, "these documents can be used by those individuals associated with terrorism to minimize scrutiny from travel screening measures."
While one can only assume the intention of these counterfeit driver's licenses from China is for underage college students to use at bars, readers should keep in mind it is an election year. China is out to get the president, and if that means creating fake driver's licenses, that could potentially be used to conduct voter fraud. 
Bitcoin-Hating Fed President Urges "Stricter Lockdown" To "Save Lives & Save The Economy"
Mon, 10 Aug 2020 01:00:00 +0000
Bitcoin-Hating Fed President Urges "Stricter Lockdown" To "Save Lives & Save The Economy"
Tyler Durden
Sun, 08/09/2020 - 21:00
Authored by Mathew Di Salvo via Decrypt.co,
In brief
The President of the Federal Reserve Bank of Minneapolis, Neel Kashkari, has called for another strict lockdown.

This is at odds with President Donald Trump, who spoke unfavorably on Monday about lockdowns.

Kashkari's ideas have previously confounded the crypto community.
The President of the Federal Reserve Bank of Minneapolis has called for another lockdown to save the US economy.
In a Friday New York Times op-ed, Neel Kashkari wrote that in order to "save lives, and save the economy, we need another lockdown." 
Along with Michael T. Osterholm, director of the Center for Infectious Disease Research and Policy at the University of Minnesota, Kashkari said that a "more restrictive lockdown," state by state, is necessary to "crush the spread" of COVID-19.
He argued that "what we have done so far hasn't worked," and proposed that the new lockdown be for up to six weeks - and stricter than before...

...Not only will a stricter lockdown save lives but "there won't be a robust economic recovery until we get control of the virus," wrote Kashkari. 
The cryptocurrency community has also been at odds with Kashkari since he said in March that the Federal Reserve has an "infinite amount of cash" - prompting Bitcoiners to push the argument for the inflation-proof digital asset.  
In February, Kashkari likened cryptocurrencies to a "giant garbage dumpster," arguing that the US dollar's scarcity is what makes it valuable. 
One month later, the Federal Reserve launched a record $2.3 trillion rescue package.
Such a large stimulus package is regarded by some Bitcoin-faithfuls as a reckless; Bitcoin's monetary policy, however, is hard-coded into its consensus mechanism.
A life-long Republican, Kashkari's views may seem to conflict with those of his party - and president. Only this week President Donald Trump said that "a permanent lockdown is not a viable path" for controlling the pandemic. 
"Lockdowns do not prevent infection in the future," he said at a Monday press conference.

"They just don't. It comes back many times, it comes back."
Chinese National Arrested Illegally Entering The US With Over $28,000 Worth Of Gold Bars
Mon, 10 Aug 2020 00:35:00 +0000
Chinese National Arrested Illegally Entering The US With Over $28,000 Worth Of Gold Bars
Tyler Durden
Sun, 08/09/2020 - 20:35
If one goes by the official Chinese data, whereas in the summer of 2015 there was a massive capital outflow in the aftermath of the sudden yuan devaluation, recent months have been a paragon of stability despite the yuan trading on the wrong side of 7 for much of the past five months, and according to Goldman's preferred gauge of FX flows, China experience a modest outflow of around US$9bn in June (vs. US$19bn inflows in May).
Alas, as the recent price action in gold and cryptos indicates, the scramble to circumvent China's great capital firewall are accelerating, with the following example of smuggling making a clear case that China's smart money is once again on the march.
According to an Aug 6 release by the US Customs and Border Protection, while conducting operations near Amity, Maine, U.S. Border Patrol Agents from the Houlton Border Patrol Station apprehended a 36-year-old Chinese national who was found to have illegally entered the United States from Canada.
On Tuesday, August 4, agents from the Houlton Border Patrol Station encountered a female subject who admitted to being a Chinese national illegally present in the United States. Agents were able to verify the location where she illegally entered the United States by matching foot prints belonging to the suspect the scene. The individual was also in possession of nearly $10,000 U.S. Dollars (USD) and 14.25 ounces of gold bars valued at over $28,500 USD.  The Chinese national was placed under arrest for illegal entry into the United States and transported to the Houlton Border Patrol Station for further processing.
During processing it was found that the Chinese national had legally entered Canada as a student.  She also admitted to knowingly entering the United States illegally at a place other than a designated port of entry with the purpose of visiting a friend in San Francisco, California. The Chinese national was subsequently expelled to Canada in accordance with title 42 U.S. Code 265.
"The vigilance, service and integrity of our Border Patrol Agents who continue to apprehend those who are looking to circumvent customs and immigration laws, plays an important role in keeping our communities in Maine and throughout the United States safe," said Houlton Station Patrol Agent in Charge Brent Conley.
More importantly, the fact that the Chinese are once again smuggling gold into the US confirms that while not apparent in the official data, capital flight out of China has once again picked up and will likely accelerate especially if the new Cold War between the US and China accelerates into the election. And, if it becomes too substantial, Beijing will have no choice but to reflect as much in the "official" data which would spark a feedback loop of even more capital outflows, even more aggressive clampdowns on money laundering, and an even greater propensity by the Chinese to buy fiat alternatives such as precious metals and crypto.
6 Questions An Honest, Intelligent Reporter Would Ask Dr. Fauci About COVID-19
Mon, 10 Aug 2020 00:10:00 +0000
6 Questions An Honest, Intelligent Reporter Would Ask Dr. Fauci About COVID-19
Tyler Durden
Sun, 08/09/2020 - 20:10
Authored by Stecey Lennox via PJMedia.ocm,
If you had been going down the rabbit hole of COVID-19 research for long enough, a few things would be astounding to you.
First, how uninformed, uncurious, or deceptive reporters in the corporate media are on a matter of life and death.

Second, how much publicly available information about COVID-19 is on the internet contradicts what is reported and said by Health Experts™on cable news.

Finally, it is impossible to believe Dr. Anthony Fauci enjoys a 62% approval rating.
Of course, part of the reason Dr. Fauci enjoys this level of trust is that reporters who interview him put a sort of religious faith in every word he utters. Having worked with doctors for years, I don't suffer from any such affliction. There are some great ones, some awful ones, and some who are great at one thing and not another.
It is also quite reasonable for doctors to disagree. Medicine is the art of applying science and it is rarely "settled." This healthy tension is why patients get second opinions. Yet during the COVID-19 pandemic, only one doctor has had almost no pushback in any public interview. This is journalistic malpractice, but not surprising. Most of the corporate media agree with his recommendations or can use panic porn clicks.
However, if there were a courageous and intelligent reporter who could score an interview with Dr. Fauci, here is a list of questions I would suggest.
1. How is COVID-19 a novel virus?
Dr. Fauci, can you please explain how COVID-19 is a novel virus when it has an overlap with the structure of SARS at a rate of 79%? In addition, there are several human coronaviruses that we have dealt with seasonally for years. Is "novel," as in completely new, an unnecessarily shocking term?
I cannot find a reference to MERS that calls it a "novel" virus. All coronaviruses have the telltale spike protein we have all become familiar with and MERS was less similar to SARS than COVID-19 is. Why add the qualifier to COVID-19 when even the NIH published an article with the following "facts" on June 26, 2020:
Only minor differences have been found between the genome sequences of SARS-CoV-2 and SARS-CoV
In another section of the same paper, it says:
Genome sequence analysis has shown that SARS-CoV-2 belongs to the Betacoronavirus genus, which includes Bat SARS-like coronavirus, SARS-CoV, and MERS-CoV [6].

SARS-CoV-2 possesses a genomic structure which is typical of other betacoronaviruses.
Typical and novel are hardly synonyms. Framing the virus as something completely new makes it scarier.
2. Why should we worry about COVID mutations?
Often news reports are discussing new mutations of COVID-19. Aren't virus mutations expected and common? It appears that there has not been a mutation that significantly increases the way the virus works in the body making it more deadly or dangerous.
Viruses mutate. This is not news and breathless reports about it in the case of COVID-19 only serve to increase panic. The changes to the virus so far are helpful in documenting its spread. There has not been a single change that warrants additional concern and it is not surprising a single patient may have multiple mutations. Mutations generally happen when the virus replicates. It does this inside the body's cells.
3. Doesn't COVID-19 behave like SARS?
Both SARS and COVID-19 have a spike protein that uses angiotensin-converting enzyme 2 (ACE-2) receptors to enter the respiratory tract cells, correct? I understand COVID-19 may be more efficient at doing so, but the cell entry is highly similar?
The method of cell entry was documented to be the same as SARS on January 23, 2020, in the Journal of Virology.
4. Why not give patients hydroxychloroquine and zinc?
In 2005 the NIH did a study on chloroquine that found it was effective in inhibiting and eliminating the SARS virus in vitro. It affected the functioning of the ACE-2 receptor. It is also a zinc ionophore that allows zinc to more efficiently enter the cell. In 2010 an NIH study demonstrated zinc interfered with the replication of coronaviruses. What is the scientific basis to reject its use in the outpatient setting where there are significant observational studies indicating it is effective in early illness?
When asked, Dr. Fauci said he would take this medication if he were diagnosed with COVID-19. It is likely because he clearly understands the drug's safety profile, how it acts, and previous studies on it. His failure to combat the media narrative of hydroxychloroquine being a terribly dangerous drug was astounding. Standing silently by while governors and professional boards interfere with the doctor-patient relationship by prohibiting or denying prescription is unconscionable.
There is no requirement for a double-blind randomized study for off-label use of an FDA approved drug at the approved dosage. Observational studies are more than acceptable in the medical and research community.  The decision to use this medication needs to remain between a doctor and a patient.
5. Doesn't the wide range of symptoms make sense?
In 2003 an article in New Scientist documented that patients who died from SARS actually died of a cytokine storm. This appeared to be well known in the research community. There are 4,735 NIH-funded studies on the phenomenon after the SARS outbreak. Was this overlooked in preparing for the pandemic response? Doesn't this immune response explain the myriad of symptoms in severe disease?
The panic porn industry loves the range of symptoms that COVID-19 causes. Unfortunately for them, these are all explained by the overwhelming damage that can be caused by an immune system overreaction. Blood clots, organ damage, and heart dysfunction can all be caused as the immune system attacks the body's own tissue.
6. How does the government respond to broader immunity than you expected?
There are now several studies that indicate that some significant portion of the population has T-cell or long-term immunity to COVID-19 due to exposure to coronaviruses in the past. How does this research impact public health measures and the approach to the virus?
Immunologists had theorized about this idea for some time in order to explain the resilience of children and the fact that some members of a household that contained an infected person never fell ill despite close contact. It also may explain so-called "asymptomatic" cases.
The PCR type test looks for pieces of the COVID-19 virus RNA. It does not determine whether the virus is alive or dead. A T-cell response would leave viral debris in the body for some period of time. A PCR test given in the absence of symptoms may detect this debris, giving the impression of an "asymptomatic" case.
Because I actively look for information and follow the data about COVID-19, it is easy to see there is a lot of good news. This is not a novel virus and it works in ways very similar to SARS. Cytokine storms have been studied for years and there are some good therapies available. Death rates are falling likely because doctors and patients are employing these therapies.
The virus is fading in the sunbelt and there are very good data to believe there are large swaths of the population that will not become ill with it. With improved treatment and some level of immunity in the population, everyone should feel confident in our ability to protect the vulnerable and return to a much more normal life.
The nation should not be discussing wearing goggles, additional lockdowns, testing asymptomatic people, and maintaining any policy that limits the civil liberties of its citizens. There is every reason to take greater steps toward reopening the economy, our schools, and normal life.
HBO's Maher Slams ex-Clinton Aide On Live Show: "Horny Bill Clinton" Spotted On Epstein's Orgy Island
Sun, 09 Aug 2020 23:45:00 +0000
HBO's Maher Slams ex-Clinton Aide On Live Show: "Horny Bill Clinton" Spotted On Epstein's Orgy Island
Tyler Durden
Sun, 08/09/2020 - 19:45
"What do we do with the Clintons now?" HBO's Bill Maher questioned, describing Hillary but especially Bill as a "big distraction" for the Democrats ahead of the November election.
But former Clinton White House adviser Paul Begala balked, to which Maher immediately pointed out that alleged Epstein victim Virginia Giuffre said she witnessed Bill Clinton at the island along with "two young girls" there also.
Maher insisted that the Clintons remain a liability for the Democratic Party, not letting Begala ingore the question. At that point the interview with the now CNN commentator got awkward as Maher brought the issue of Bill Clinton's presence on Epstein's 'orgy island' front and center. Here's the key segment:
The HBO Real Time host then alluded to "Bill Clinton, a horny guy, on sex island...":
"Now, Bill Clinton. People are saying that there are witnesses who saw him on Jeffrey Epstein's sex island," Maher began. "Obviously, it's denied."

Begala, who served as a White House adviser during Clinton's administration, shook his head in disapproval -- but Maher doubled down.

"You shake your head like, 'Oh that's impossible! Bill Clinton, a horny guy, on sex island? Ridiculous!'" Maher mocked.
"Look, it's possible," emphasized in what was a clearly uncomfortable moment for ex-Clinton aide Begala.
Maher has long argued that it's better for the DNC if the Clintons both stayed away from the convention and kept a very low profile amidst multiple raging controversies, especially the Epstein saga.
"My question is, you know, [Clinton] has assets and he has ... things that are not quite assets," Maher questioned. "And same with Hillary. What do the Democrats — what should they do?"
The brief exchange from the Friday night Real Time show generated a number of headlines highlighting the clip, given also the major networks have appeared to conveniently and intentionally ignore the explosive allegations contained in recently unsealed court documents from 2011, centered on Epstein accuser Virginia Giuffre's testimony.
Whistleblower Exposes "The Spies Who Hijacked America"
Sun, 09 Aug 2020 23:20:00 +0000
Whistleblower Exposes "The Spies Who Hijacked America"
Tyler Durden
Sun, 08/09/2020 - 19:20
Authored by Steven P. Scrage, PhD via Matt Taibbi Substack (emphasis ours),
Global scandals now labeled Russiagate, Spygate, and what President Trump calls "Obamagate" shook the political world, but hit me closer to home.
I'm the reason the so-called FBI "spy" at the center of Spygate, Stefan Halper, met Carter Page, the alleged "Russian Asset" in Russiagate's Crossfire Hurricane investigation. 
On May 19, 2018, this realization blindsided me in London as I was about to fly out for my wedding. The New York Times, NBC News and other sources had outed my PhD supervisor, Stefan Halper, as a spy known to the UK's MI6 intelligence service as "The Walrus."
It didn't seem real. Could a former professor I once trusted as a mentor have betrayed his word, profession, and country to start these disasters? I had moved to England to pursue an academic career and leave DC's politics behind, only to have my PhD supervisor throw me back into the most outrageous political firestorms I could imagine. Just my luck. Then an even worse question began nagging at me. Did I unintentionally light the match that started it all?
As I started to piece together what happened over the next few months, I realized something. The stories that The New York Times, Washington Post,and others were pushing didn't add up. Many seemed planted to cover up or advance the agendas of several individuals whose tentacles secretly ran through these scandals, and who each had longstanding ties to intelligence services like the FBI, CIA, and MI6. I call these individuals the Cambridge Four. 
Strangely, all four were linked through that sleepy British academic town thousands of miles from the alleged "ground zeroes" of Russiagate's conspiracies, Moscow and DC. In addition to the central "Spygate" figure Halper, they include the central source of "Russiagate's" fake conspiracy theories, Christopher Steele; former MI6 Director Sir Richard Dearlove; and Halper's and Dearlove's partner in a Cambridge Intelligence Seminar linked to titillating — but false — tales of a "Russian spy" seducing Trump's top national security advisor. My years of work with Halper provided an inside view of how their four networks interconnected. The more I dug up new pieces of this puzzle, the more I saw how these individuals' seemingly separate acts might fit together in an absurd picture of how these scandals really started.
Armed with first-hand knowledge and evidence, I quietly sought to help federal investigators uncover these scandals' mysteries. It wasn't my first rodeo. After witnessing the plane that hit the Pentagon on 9/11, I led G8 and State Department international crime and terrorism efforts with Department of Justice (DOJ), FBI, and intelligence officials and had worked for decades in White House, Congressional, and presidential campaign roles. This helped me keep a stiff upper lip when I was falsely accused in 2019 by the House Intelligence Committee's Ranking Republican and others on television as being part of a secret anti-Trump cabal. As much as I wanted to defend myself, I knew our best shot of exposing the real forces behind these scandals was for me to remain publicly silent and not let those under investigation know what I knew or was willing to say. 
To continue reading, click here...
Texas COVID Positivity Rate Hits New Record High As Bill Gates Slams US "Testing Insanity": Live Updates
Sun, 09 Aug 2020 23:14:00 +0000
Texas COVID Positivity Rate Hits New Record High As Bill Gates Slams US "Testing Insanity": Live Updates
Tyler Durden
Sun, 08/09/2020 - 19:14
Summary:
Texas 7-day average positivity rate hits new high
Gates slams US "testing insanity"
Washington suffers first teenager COVID death
Greece sees new jump in cases
UK reports 1k+ new cases
Arizona sees lowest cases in 6 weeks
EU makes optimistic sign on vaccines
Italy says schools will start Sept. 14
UK says opening schools a "national priority"
* * *
Update (1850ET): After the US added 1 million new cases in roughly 2 weeks to surpass 5 million cases, the New York State's positivity rate on Sunday tumbled to a record low of 0.78%, while Texas's positivity rate climbed to a record high for the second straight day.
Additionally, Maryland's seven-day average statewide positivity rate has reached a new all-time low of 3.75%, Gov. Larry Hogan announced.
The Texas Health Department said that its seven-day average for COVID-19 positivity has reached a new record high of 20.3%.
This was two percentage points higher than the previous record on July 16, according to Health Department data. The average had steadily declined from July 16 to July 29, when it reached a low of 12.09%, however, since July 30, the average has been steadily increasing.
Texas health authorities reported 116 new deaths, bringing its death toll to 8,459, while new cases climbed by 4,879 to 486,362.
The Tacoma-Pierce County Health Department announced it recorded the first coronavirus death to affect a Washington state resident under 20 years old.
Finally, Bill Gates on Sunday decried the "testing insanity" gripping the US, which he said had caused the country to fall behind the rest of the world. It was just another bit of US-bashing from the WHO-aligned Gates, who has criticized the Trump Administration's efforts at every turn.
Appearing on Fareed Zakaria's show on CNN, Gates blamed Trump for the slow turn around times he said were afflicting most of the US (even as many of the worst-hit counties in the Northeast manage to turn results around in under a day, or even a few hours..
"A variety of early missteps by the U.S. and then the political atmosphere meant that we didn't get our testing going," Gates said. "It's nonsense that any sort of travel ban we did was at all beneficial. That doesn't pass the common sense test...and now we've executed our lockdowns nationwide with less fidelity than other countries."

Commercial labs, he said, have left customers struggling with long waits, while "very wealthy people have access to these quick-turnaround tests."

"It's mind-blowing that you can't get the government to improve the testing because they just want to say how great it is," he continued. "I've said to them, look, have a [Centers for Disease Control and Prevention] website that prioritizes who gets tested. Don't reimburse any test where the result goes back after three days. You're paying billions of dollars in this very inequitable way to get the most worthless testing results in the world."

"No other country has the testing insanity because they won't talk about fixing it, because they think they need to just keep acting like they've done a competent job," he added.
Cue another flood of stories about long wait lines in Texas and Florida.
* * *
Update (1515ET): Some more signs of a 'second wave' of infections emerging in Europe were confirmed by Greece and the United Kingdom on Saturday.
Greece reported 203 new coronavirus cases Sunday, the biggest single-day jump since the beginning of the pandemic, bringing its total to 5,623. It also was the biggest jump in daily cases since April 21.
As infections in the US start to turn lower again following a brief bump, Former FDA Commissioner Scott Gottlieb said the US. looks like it's headed for an infection surge in rural regions, now that the wave impacting the Sun Belt has subsided. But some critics have called bs on this.
"We're probably going to have another wave," he said on CBS's "Face the Nation" on Sunday. There's concern about largely untouched rural communities, which are "probably a bit more complacent" about virus risks, he said.
Rural spread is "going to be far more difficult to control if it's more widespread," he said. "We're seeing indications of that right now - the wave spreading in the Midwest and the West."
The UK reported more than 1,000 new cases for the first time since June 26, bringing its total to 310,825. The 1,062 cases reported Sunday are higher than the seven-day average of 877.
Arizona reported 816 cases, its lowest since late June, a six week low. The 0.4% increase was below the 0.7% daily average increase of the previous week. Total cases are now 186,923.
* * *
As we reported last night, the US surpassed 5 million confirmed cases (according to data compiled by Johns Hopkins) on Saturday evening (East Coast Time).
The US reported 56,070 cases Saturday, a 1.1% increase over the prior day. Total deaths have reached 162,441, the data show.
As we reported last night, Brazil also passed two critical milestones: it has now confirmed 2 million cases, and more than 100,000 deaths.
Though the numbers have rebounded a bit over the past week, on average, the daily numbers across the US have declined from a recent peak, as the outbreak in the Sun Belt outpaced the outbreak in New York. As the number of new cases in Fla. and Texas and California and Arizona has declined, some northeastern states, like New Jersey and Rhode Island, have seen a slight uptick in recent weeks (which inspired NJ, NY & Conn to add RI to the mandatory quarantine iist).
Globally, the number of confirmed cases is nearing 19.75 million.
Over in the EU, as governments sign more deals with major pharmaceutical companies to guarantee supplies of a vaccine that hasn't even been proven safe and effective yet, EU Commissioner for Health and Food Safety Stella Kyriakides told Germany's Handelsblatt in an interview that while a vaccine won't immediately solve all the world's problems, it will allow a step-by-step return to normality, the newspaper cited Kyriakides as saying.
In contrast, in the US, Dr. Fauci, who has repeatedly reassured Congress (and the American pubic) that a vaccine would be available by the end of the year, admitted yesterday that we really don't know how effective the vaccine will be: he says it may be only "50% to 60% effective."
As Australia's second-most-populous state, Victoria (the home of its second-largest city, Melbourne) continues to struggle with the country's largest outbreak yet, neighboring New Zealand has just confirmed its 100th straight day without even a single coronavirus transmission.
New Zealand on Sunday marked 100 days since it was able to effectively eliminate the spread of coronavirus.
Here's JHU's daily chart reflecting the daily growth rates of the 10 fastest-growing outbreaks in the world.
As New York bucks the trend in the US by moving toward a "hybrid" model of in-person learning this fall, more European economies are moving toward fully restarting in-person learning in a few weeks, almost guaranteeing another outbreak, though ideally one that can be swiftly contained with minimal fatalities. 
Schools Minister Nick Gibb said in an interview on Times Radio that opening schools is critical for reviving the country's battered economy, by allowing parents to return to work. Prime Minister Boris Johnson told the Mail on Sunday newspaper the country has a "moral duty" to resume normal teaching and reopening. He called reopening schools a "national priority."
Meanwhile, in Iran, the number of new cases fell to a two-month low of 2,020, bringing total infections to 326,712. The death toll climbed to 18,427 with 163 more deaths overnight. That's compared with 132 the day before.
Italy's Health Minister Roberto Speranza confirmed in an interview with Italian newspaper Corriere della Sera that Italian schools will reopen Sept. 14.
Another lockdown would do an "enormous damage, and we need to avoid it more than anything" Speranza said in the interview, in a reference to Italy's battered economy, which will - to be sure - benefit from the pan-European rescue fund.
Baltimore Holds 'Ceasefire Prayer' As Murders On Track For Record Year
Sun, 09 Aug 2020 22:55:00 +0000
Baltimore Holds 'Ceasefire Prayer' As Murders On Track For Record Year
Tyler Durden
Sun, 08/09/2020 - 18:55
Readers may know we sometimes focus on Baltimore City because it's one of the best examples of what happens to a failed liberal city, that is, the occasional riots, soaring violent crime, murder epidemic, opioid crisis, and large-scale wealth inequality, have created a perfect storm of chaos. 
In recent years, the streets of Baltimore have transformed into inner-city warzones. Violence flared up after the last recession, ignited even more during the 2015 riots, and with today's virus-induced recession, the city is quickly descending further into socio-economic turmoil.  
Organizers of Ceasefire Weekend held a prayer this weekend in west Baltimore, an area ravaged by some of the highest homicides on a per-capita basis in the country. Streets in this part of town are lined with thousands of abandoned row homes, underfunded schools, opioids, and depressionary unemployment. 
Scott Slater, a member of the Episcopal Diocese of Maryland, told CBS Baltimore, the prayer walk on Saturday is for a murder free weekend, though two people were killed that day.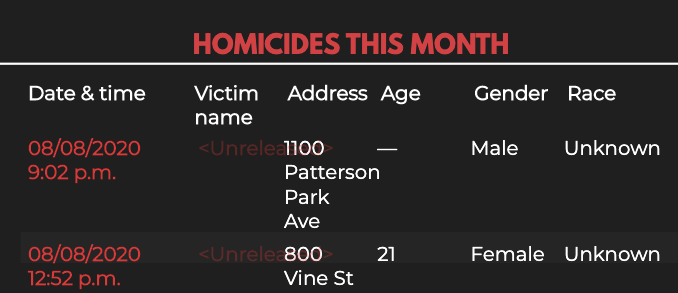 Barbara O'Sullivan participated in the prayer walk.
"Until this stops, every one of us is a victim of gun violence," O'Sullivan said.
Slater believes systemic racism is one of the sources of violence.   
"Stress that is systemic and endemic in our city for those who live in these conditions," Slater said. "We need to minimize the stress and provide better resources for people, so they don't have to make decisions to kill each other."
The city has seen more than 300 homicides per year since 2015. Cumulative homicides trends suggest the number could top +300 by year-end.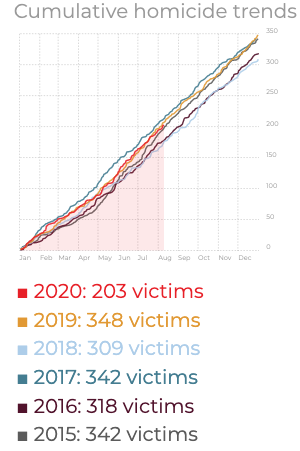 Gun violence is the primary reason for death. Murders are widespread.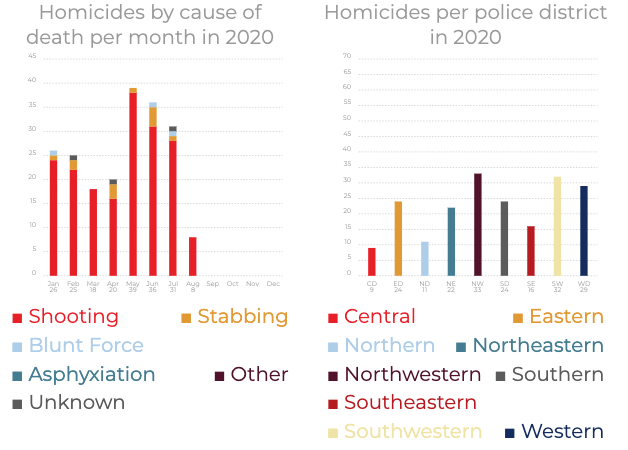 The result of all this, as we've explained, a mass exodus of people, who still have economic mobility despite the virus-induced recession, are escaping to suburbs or rural communities as city-life becomes too dangerous to raise a family. 
With no end in sight, America's metros are imploding. There has been no viable solution offered as a blueprint to fix inner cities. This is all happening at a time when the federal government and Federal Reserve exacerbate the wealth gap by bailing out corporate America and Wall Street as main street is left to die.
Black-Hole'd? NASA To Stop Using "Inappropriate" Nicknames For Cosmic Objects
Sun, 09 Aug 2020 22:30:00 +0000
Black-Hole'd? NASA To Stop Using "Inappropriate" Nicknames For Cosmic Objects
Tyler Durden
Sun, 08/09/2020 - 18:30
Authored by Melanie Sun via The Epoch Times,
NASA has announced it is revising some unofficial nicknames used to refer to cosmic objects as it joins efforts by some within the scientific community to promote values of "diversity, equity, and inclusion."
The U.S. space agency said in a statement on Aug. 5 that certain nicknames historically used to refer to distant planets, galaxies, or nebulae that it considers "inappropriate" will no longer be used. Instead, the agency will adopt the official International Astronomical Union designations for the cosmic objects.
"As the scientific community works to identify and address systemic discrimination and inequality in all aspects of the field, it has become clear that certain cosmic nicknames are not only insensitive, but can be actively harmful," the agency said.
For example, what has been known as the "Eskimo Nebula" will now be referred to as NGC 2392.
According to NASA's statement, the world "Eskimo" is "widely viewed as a colonial term with a racist history, imposed on the indigenous people of Arctic regions."
The agency also said it would no longer use the name "Siamese Twins Galaxy," which it deems inappropriate for referring to NGC 4567 and NGC 4568—a pair of spiral galaxies in the Virgo Galaxy Cluster.
"The agency will be working with diversity, inclusion, and equity experts in the astronomical and physical sciences to provide guidance and recommendations for other nicknames and terms for review," it said about its ongoing review.
Thomas Zurbuchen, the associate administrator of NASA's Science Mission Directorate, explained in the statement: "Our goal is that all names are aligned with our values of diversity and inclusion, and we'll proactively work with the scientific community to help ensure that.
"Science is for everyone, and every facet of our work needs to reflect that value," he said.
Stephen Shih, NASA's Diversity and Equal Opportunity associate administrator, said that the nicknames in question "may have historical or culture connotations that are objectionable or unwelcoming" and that "NASA is strongly committed to addressing them."
"Science depends on diverse contributions, and benefits everyone, so this means we must make it inclusive," he added.
Finally, we note that the hilarious people over at The Babylon Bee had some ideas for new names...
With 160 Vaccine Candidates In Development, Goldman Expects An Economic Boom Once At Least One Is Approved By The End Of 2020
Sun, 09 Aug 2020 22:04:38 +0000
With 160 Vaccine Candidates In Development, Goldman Expects An Economic Boom Once At Least One Is Approved By The End Of 2020
Tyler Durden
Sun, 08/09/2020 - 18:04
As Deutsche Bank Marion Laboure and Jim Reid wrote last week, whereas vaccines normally require years of testing and additional time to produce at scale, amidst the modern era pandemic scientists are hoping to develop a coronavirus vaccine within 12 to 18 months. The reason for that while normally a vaccine takes years to develop using a traditional process, with covid things are far more accelerated...
and furthermore, there are already no less than 160 covid vaccine candidates currently in process as the following table shows...
... with the top 6 listed below.
Here is what the top vaccine makers have said publicly about the state of affairs courtesy of Deutsche Bank.
Still, there are caveats and there is a distinct possibility a vaccine may not emerge any time soon as various roadblocks may still emerge as the following bulletin of key dates, timelines and road blocks summarizes:
Work began in January 2020 with the deciphering of the SARS-CoV-2 genome. The first vaccine safety trials in humans started in March.
All candidates have received regulatory approvals to move quickly to human trials, skipping the years of animal trials that are the norm in developing vaccines. Another way to accelerate vaccine development is to combine phases. Some coronavirus vaccines are now in Phase I/II trials combined together.
Meanwhile, SARS and SARS-CoV-2, the virus that causes Covid-19, are roughly 80 percent identical, and both use so-called spike proteins to grab onto a specific receptor found on cells in human lungs. So using the already existing research work of SARS scientists have pushed ahead quickly.
Global goal is to develop effective vaccine possibly by early 2021. Researchers of Oxford vaccine candidate have announced that their vaccine could be ready for emergency use as soon as September if phase 3 trials are successful.
China's CanSino vaccine was the first to reach Phase 1 and Phase 2. Sinovac, Sinopharm, Astrazeneca, Moderna, CanSino and Pfizer all reached phase 3 in July.
However, researchers caution that less than 10 percent of drugs that enter clinical trials are ever approved by the Food and Drug Administration.
The risk of a failed vaccine however no longer figures in Goldman's economic forecast, and as Goldman's Jan Hatzius writes in a report over the weekend, Goldman now expects "that at least one vaccine will be approved by the end of 2020 and will be widely distributed by the end of 2021 Q2. We have incorporated this timeline as our baseline forecast, and now assume  consumer services spending accelerates in the first half of 2021 as consumers resume activities that would previously have exposed them to Covid-19 risk."
Yet even though polling has shown that only 42% of Americans would submit to a covid vaccine, Goldman is still optimistic enough to upgrade its growth forecast which becomes more front-loaded. Specifically, the bank's previous GDP forecast reflected a weighted average across possible vaccine scenarios, including the possibility of no vaccine by the end of 2021
Since then the vaccine outlook has since become clearer and more positive according to Hatzius who notes that "the economic benefits for the US appear particularly large due to its leadership in the vaccine race and worse virus control. As a result, we now expect that at least one vaccine will be approved this fall with widespread distribution and positive growth effects felt in the first half of 2021 (dark blue line in Exhibit 1)."
Assuming Goldman's optimism plays out, and there is an earlier approval of a vaccine, it would have two main effects on the bank's growth forecast:
First, it will accelerate the recovery starting in 2020Q1 as consumers resume high Covid-19 risk activities that could not fully recover prior to a vaccine.
Second, the effect of the vaccine is larger in the early approval scenario because it limits scarring effects that could not be undone quickly if the vaccine arrives later.
Following a vaccine approval, Goldman assumes that the rate of recovery for the most affected spending categories doubles and increases by 50% for categories that are moderately affected. This accelerated recovery speed is applied to all of H1 in 2021 but decelerates the recovery in the second half of the year, to reflect growth pulled forward in time.
Exhibit 3 shows the new GDP path, which leaves Goldman's 2020 forecast unchanged, including the assumption that the still-high level of virus spread will keep consumer activity stalled through the end of this month. The updated vaccine outlook is reflected in the rapid decline in the drag from the consumer services sector—shown by the dark blue bars—during the first half of 2021. Under this forecast, the contribution of consumer services spending to the output gap falls to -1.1pp by the end of 2021Q2 (vs. -2.0pp previously). This is partially offset by slower consumer services spending growth in the second half of 2021, leaving our forecast of the level of GDP at the end of 2021 slightly higher. On net, Goldman's growth forecast "is more front-loaded and modestly upgraded."
What does this mean in terms of an annualized quarterly GDP basis?
Goldman now expects GDP growth of +10% in Q1 2021, +8% in Q2 2021, +4% in Q3 2021, and +3% in Q4 2021 (vs. +8%, +6.5%, +5%, +4% previously). This raises 2021 growth to +6.2% on an annual average basis (vs. +5.6% previously) and +6.2% on a Q4/Q4 basis (vs. +5.9%).
It also means that if Goldman is correct, and the polls predicting a victory for Biden and a Democratic sweep are also on the money, then Joe Biden faces an impressive first year in the office with near record quarterly GDP gains.
Still, despite these overly optimistic forecast upgrades, Goldman cautions that downside risks have also risen due to Congress's failure to pass a Phase 4 fiscal package, and while last night's executive orders postponed the fiscal cliff through August and the bank still expects a package worth around $1.5 trillion to become law by the end of the month, "the risk of no further legislative action has increased and could pose a threat to the budding recovery."
Mnuchin 'Willing To Listen' On Stimulus As Pelosi Calls Trump Executive Orders 'Unconstitutional Slop'
Sun, 09 Aug 2020 21:40:00 +0000
Mnuchin 'Willing To Listen' On Stimulus As Pelosi Calls Trump Executive Orders 'Unconstitutional Slop'
Tyler Durden
Sun, 08/09/2020 - 17:40
After President Trump stepped in on Saturday with an Executive Order to temporarily extend stimulus benefits, Democrats on Sunday lambasted the move which undermined the urgency behind ongoing negotiations over the next bipartisan package.
On Sunday, House Speaker Nancy Pelosi (D-CA) told "Fox News Sunday" that the executive orders were "unconstitutional slop," adding "We have to reach an agreement."
"Children are food insecure. Families are at the risk of being evicted. The virus is moving like a freight train," she added. "The kindest thing I could say is he doesn't know what he's talking about or something's wrong there — something's very, very wrong."
Senate Minority Leader Chuck Schumer (D-NY) called the EOs 'paltry,' along with 'unworkable, weak and far too narrow.'
"The event at the country club is just what Trump does -- a big show, but it doesn't do anything," Schumer told ABC's "This Week" on Sunday.
As Goldman notes:
President Trump issued executive orders in the four policy areas that had been expected. The extra $400 unemployment payment is likely to last only a month, however. The payroll tax deferment would last through year-end, but consumers might be hesitant to spend extra income without a change in tax law. That said, both policies could put pressure on Congress to agree to a broader fiscal package. We continue to expect a package worth around $1.5 trillion to become law in August. The new executive orders create two deadlines around the end of the month, which could provide a new incentive for Congress to act.
Treasury Secretary Steven Mnuchin, meanwhile, says that if the Democrats have a new proposal, "I'm willing to listen."
On Fox, Mnuchin chided Democrats for their intransigence over weeks of talks, particularly on state and local government funding, which some Republicans have termed a bailout for Democratic states. He urged Pelosi to help pass a bill on "things we agree on" before returning to some of the most contentious issues. -Bloomberg
On Saturday, President Trump signed executive orders extending the federal unemployment boost by $400 per week, down from $600. He also temporarily deferred payroll taxes for certain workers, pursued eviction protections and student loan relief.
When it was suggested that Democrats may sue to stop the benefits from flowing, White House economic adviser Larry Kudlow told ABC "Maybe we're going to go to court on them. We're going to go ahead with our actions anyway," adding "Our counsel's office, the Treasury Department believes it has the authority to temporarily suspend tax collections. So we're banking on that."
"It's Not Clear If Beirut Port Explosion Was Accident Or Attack": Esper Tells FOX
Sun, 09 Aug 2020 21:15:00 +0000
"It's Not Clear If Beirut Port Explosion Was Accident Or Attack": Esper Tells FOX
Tyler Durden
Sun, 08/09/2020 - 17:15
US Defense Secretary Mark Esper appeared on FOX Saturday evening to explain the discrepancy between official Lebanese government statements that the Aug. 4 Beirut port explosion was an accident based on severe "negligence" and President Trump's initial statements in the aftermath that it was a "terrible attack".
Trump had raised eyebrows in saying at a White House press conference in the hours after the tragedy that left over 150 dead, while referencing his generals: "They seem to think it was an attack. It was a bomb of some kind."
In the days after both Trump and the Pentagon tried to walk back the statements, now with Esper in the weekend FOX interview saying that ultimately it was not clear whether the explosion was the result of "a deliberate attack or an accident".
"The bottom line is that we still don't know. You know, on the first day, as President Trump said, we thought it might have been an attack. Some of us expected it might be, for example, a shipment of weapons to Hezbollah that exploded. Maybe a manufacturing facility," Esper said.
"Some of us speculated it could have been for an example a Hezbollah arms shipment that blew up, maybe a Hezbollah bomb-making facility," Esper told show host Jeanine Pirro.
"I have said before that it looks like an accident," Esper continued. "It is unfortunate that some in the media have tried to create divisions within the administration, perhaps between me and the president and others."
He concluded, "It is simply not true. I mean, the truth of the matter, it is a great tragedy. Under the leadership of the President, we will do our best to help the Lebanese people and do what is right."
It's been since revealed that not only was an estimated 2,750 tons of ammonium nitrate left unsecured for over 6 years in a warehouse at the port, but a large quantity of fireworks had been impounded in the same warehouse complex, near the highly explosive substance commonly used in fertilizer and manufactured explosives.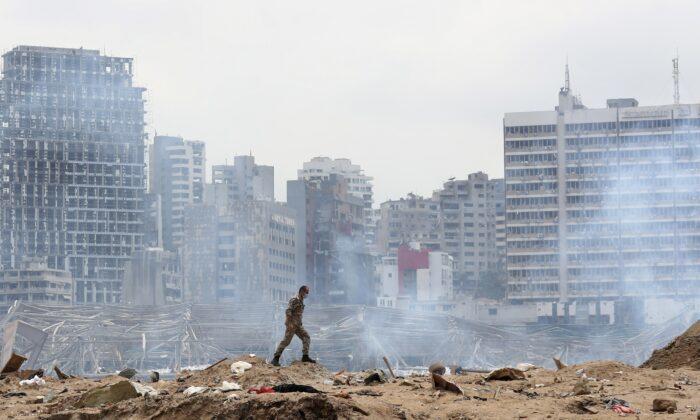 Meanwhile, despite now raging protests in reaction to government negligence which allowed 2,750 metric tons of ammonium nitrate to be "stored unsafely", Lebanese President Michel Aoun has rejected calls for an international investigation as a "waste of time".
"The goal of calls for an international investigation in the port case is to waste time," the President's media office cited him as saying.
It is as yet unclear whether Washington will add pressure on the Lebanese government to allow an international team to head up an official investigation.
Given current media claims that Hezbollah also conducted operations at the port, it is likely the administration will push for an outside, independent investigation into the cause of what's been acknowledged as the largest non-military munitions explosion in history.
Morgan Stanley Sounds The Alarm On Record High Bond Duration, Is Starting To Buy Bond Volatility
Sun, 09 Aug 2020 20:50:00 +0000
Morgan Stanley Sounds The Alarm On Record High Bond Duration, Is Starting To Buy Bond Volatility
Tyler Durden
Sun, 08/09/2020 - 16:50
By Andrew Sheets, global macro strategist at Morgan Stanley,
You Have More Duration than You Think
2020 has seen a pandemic inflict enormous human and economic cost. In 2Q, the global economy contracted by the largest amount on record and, as autumn approaches, major questions around returning to school, work and other aspects of daily life remain.
But for investors, 2020 has been something different. Year-to-date, the value of the global equity market is broadly unchanged. The value of the global bond market is significantly higher. Home prices in many markets have risen. Indeed, an uncomfortable aspect of 2020 is that this terrible year has generally meant gains for asset owners. US household wealth/GDP has made a new record high.
Many factors are behind this. The global economy is improving, in line with the V-shaped recovery thesis of Morgan Stanley's economists. Initial progress on a vaccine has been promising, lowering the probability of a larger, more permanent shock. And both fiscal and monetary policy have been aggressive, with trillions spent and bought in an attempt of offset the impact of COVID-19.
But another driver has been a classic case of 'having your cake and eating it': global bond yields have remained near historical lows, even as global PMIs have moved back above 50. This matters: global investors have historically high exposure to duration.
Let's start with fixed income. First, the total amount of bonds owned by investors has grown. Using the Bloomberg Global Agg as a proxy, the market value of the global bond market has risen 27% in just the past two years. Not only are there more bonds, but these bonds are longer in duration. Over the same two-year period, the duration of the global bond market has increased by ~5%, to a record high, as both corporates and governments have taken advantage of low yields to extend maturity. And this is with extremely high mortgage prepayment speeds; if those slow, global duration would increase further.
Since every bond is owned by someone, a larger, longer-duration market has meant strong returns from doing nothing more than holding the index. But this isn't just a story about bonds. It applies to equities too.
Year-to-date, consumer discretionary stocks (of which Amazon is by far the largest component) have had the highest correlation to US real rates (real yields lower, stocks up), with the technology sector close behind. What do both sectors also have in common? They're getting larger.
At the start of 2019, these two sectors represented 24% of the global equity market. Today, it's 30%. Globally, investors hold US$8.1 trillion more of these yield-sensitive sectors than they did just ~18 months ago. This isn't just a US phenomenon; as my colleague Jonathan Garner has noted, EM equities have also become much more tech-heavy in recent years.
And that's assuming one follows the benchmark. Our data suggest that these two sectors are popular and well-owned. Even if most investors are buying these stocks for their business models, rather than their rate sensitivity, the attribute remains.
As yields have fallen and uncertainty abounds, investors have looked elsewhere for diversification. They have flocked to precious metals as 'new diversifiers', but here too yield sensitivity looms. Rather than being a 'hedge', gold and silver may simply be another expression of the real rate exposure one already has.
With the Fed suggesting that it will shift its framework to be more dovish in the face of inflation, and recent data surprising to the upside, it's possible that the extreme levels of real rates persist for a little while longer. Indeed, my colleague Guneet Dhingra sees value in US 5yr TIPS, and expects real rates to fall further in the near term.
But it's important to take stock of just how much serendipity has been at work. From a growing bond market that's been extending in duration, to a global equity market where lower real yield winners have gained share, investors have become more exposed to rates even if they've taken no active action. This sensitivity is occurring at the richest levels for these yields ever recorded. This is one reason why my US colleagues have downgraded software from overweight – a sector with very high valuations and interest rate sensitivity. With duration exposure surfacing across portfolios, we like owning interest rate volatility (while we prefer to sell equity volatility). And for central banks, this dynamic should highlight the dangers of overcooking markets that are already doing quite well.
To be clear, we think that overall equity and credit markets can weather a modest rise in yields, driven by better data. Risk assets have frequently been happy to trade a better growth outlook for a higher discount rate, and we saw this pattern as recently as Monday when global PMIs surprised to the upside. But the rise in duration across asset classes, at its most expensive levels on record, suggests that the transition won't be smooth. Whether one is active or passive, August is a good time to evaluate, and be honest about, your cross-asset duration exposure.
Rape Suspect Released From Jail Due To COVID Kills Woman Who Accused Him
Sun, 09 Aug 2020 20:45:00 +0000
Rape Suspect Released From Jail Due To COVID Kills Woman Who Accused Him
Tyler Durden
Sun, 08/09/2020 - 16:45
In what is a perfect display of the efficiency of governments in dealing with the coronavirus outbreak, a Virginia rape suspect who was released from jail due to Covid concerns turned right around and killed the woman who accused him as soon as he was let out. 
Ibrahim E. Bouaichi shot and killed his accuser in late July after he was released from jail on April 9, according to Fox News.
He was indicted last year on charges including rape, strangulation and abduction. His accuser, Karla Elizabeth Dominguez Gonzalez, had testified against him in court in December of last year.
Bouaichi was jailed in Alexandria, VA without bond until the pandemic hit, at which point his lawyers argued for his release until trial due to the virus "endangering" inmates. He was released by Circuit Court Judge Nolan Dawkins on $25,000 bond as a result. 
The conditions of his release were that he only leave his home to meet with his lawyers or pretrial services officials. Now, he's accused of killing Gonzalez on July 29. 
On Tuesday of last week, police made it known they were looking for Bouaichi, who they described as "armed and dangerous". On Wednesday, officials said he was spotted and pursued in Prince George's County where he crashed his vehicle and reportedly shot himself. On Thursday, he was listed in "grave condition". 
Bouaichi's attorneys commented they were "certainly saddened by the tragedy both families have suffered here" and "were looking forward to trial. Unfortunately, the pandemic continued the trial date by several months and we didn't get the chance to put forth our case."
Judge Dawkins retired from the bench in June and didn't respond to requests for comment. 
Nancy Pelosi Admits On CNN: "China Would Prefer Joe Biden"
Sun, 09 Aug 2020 20:25:00 +0000
Nancy Pelosi Admits On CNN: "China Would Prefer Joe Biden"
Tyler Durden
Sun, 08/09/2020 - 16:25
House Speaker Nancy Pelosi just admitted during a live interview on CNN's "State of the Union" that the threats posed by Russia and China during the upcoming presidential election "aren't equivalent" - because Russia is pulling for Trump, and China is pulling for Biden.
In an interview that was notably thin on details and heavy on rhetoric, Pelosi insisted that the American people's lack of an "understanding" about the reality of "foreign influence" in US elections is unquestionably the Trump Administration's fault. While administration officials, including the head of the FBI, have spoken out about steps being taken by the administration to root out foreign interference, Pelosi dismissed these attempts as not nearly hysteria-inducing enough.
While Pelosi couldn't give out too many details - "I can't divulge information that's classified" - but insinuated that this is part of an international plot to bend the election, just like last time.
But at one point, Pelosi accidentally let slip that Russia isn't the only state actor trying to influence the election. China is ramping up its efforts, too. And while Russia is standing by its man, China is pouring resources into pulling for Joe Biden (just like the rest of the American mainstream media).
"China would prefer Joe Biden..but .Russia is actively 24/7 interfering in our election, they did so in 2016 and they're doing so now, and [the administration says] that to a certain extent, but they need to tell the people more."
Watch the full clip below:
So if, in theory, TikTok starts using its platform to boost pro-Biden content in key swing states to try and sway the election, just like it has done to promote Chinese interests in the US, would Pelosi speak out about this as well?
She then bemoaned the threat of "Vladimir Putin" choosing the next president "for us".
Just like he did last time, remember?
Conservatives on Twitter immediately latched on to Pelosi's rare burst of honesty.
Meanwhile, White House Spokeswoman Kayleigh McEnany wonders aloud why Biden, who claims to care deeply about the millions of Americans desperately in need of extended benefits, won't intercede and ask Pelosi and Schumer not to stand in the way of Trump's executive order to extend the benefits.
And the mainstream media is touting the latest poll results suggesting Biden's "lead" on handling COVID-19 "blows away" Trump's lead on the economy.
But we can't help but wonder: how many Americans can really say they're "confident" in Biden's ability to lead during a crisis like this. He has literally spent the last 5 months hiding in a basement, hardly even speaking up to challenge the federal response, except to do some political pandering. At the very least, Trump is there. He is leading the country through this. His administration has been accused of making many mistakes, some of those criticisms are probably warranted. But he still keeps showing up, day after day, to tackle the worst outbreak in the world.
Few People Predicted Or Imagined Our "COVID-19 World"
Sun, 09 Aug 2020 20:00:00 +0000
Few People Predicted Or Imagined Our "COVID-19 World"
Tyler Durden
Sun, 08/09/2020 - 16:00
Authored by Bruce Wilds via Advancing Time blog,
At the end of 2019 when people were making predictions of what the New Year would bring few envisioned a Pandemic that would alter the world. Few people would have predicted or imagined the changes covid-19 has brought, to say it has been a game-changer is an understatement. This pandemic continues to evolve, whether you think it is over-hyped or not, it is impossible to deny its effects have altered society. It has twisted so many lives, businesses, the global economy, and more into a bizarre image of what existed before. It is difficult to believe but the freedom to move from one area to another is gone and may never be restored. Below are a few examples of its effects or what has become a covid-19 world.
2020 Means Fake-fans At Sporting Events
Social distancing has resulted in events being canceled across the world. It is difficult to say when people will again feel comfortable or allowed to gather in mass. To say the effects on certain sectors of the economy have been staggering is an understatement. As these industries struggle to adjust and reinvent themselves there is no guarantee consumers will move with them allowing them to remain viable.
A Lock-down Means Empty Streets And Businesses Closed
Who would have thought that entire cities would go into lock-down? This does not impact only the residents of these cities but the supply chains of companies that depend on products manufactured in them to operate. To make matters worse draconian rules and the harsh treatment of those not obeying government mandates have taken on an Orwellian flavor of totalitarianism which should make all of us fear the powers of those holding sway over our lives. The pandemic has highlighted the fact that over the years with the aid of new technologies governments across the world have greatly expanded their ability to watch our movements and everything we do.
While the number of people beginning to venture onto airplanes has slowly begun to increase, air travel is still far below that of last year. All indications are that it will be years before travel returns to normal. According to The Associated Press, the improvement in miles flown is "barely visible." June's air travel, measured in the distance traveled by all paying fliers, decreased 86.5 percent compared to last year, slightly better than May, which saw a drop of 91 percent compared to 2019.
The huge decline in air travel is only one of the new realities we face and has been disastrous to tourism. The loss to many of these companies has up until now been masked by government loans and bailouts but these are only short term fixes. This all funnels into the bigger picture of the stock market that seems to have totally disconnected from the pain being fostered upon millions of small businesses in America and across the world. The demise of millions of small businesses underlines  the bleak picture we face, this means unpaid rents and more empty storefronts as Main Street withers on the vine.
Wall Street And Main Street Disconnect
Until now much of the economic and social damage has been masked by a massive government giveaway. Unfortunately, the damage all this has wrought will become apparent over the coming months from the strong headwinds facing our economy. The loss of jobs we face is not a short term problem but will be with us for a long time and is exacerbated by growing automation and a flood of robots about to enter the workforce. How long the stock market can ignore the carnage taking place on Main Street is indeed very questionable.
It must be pointed out that when Covid-19 first raised its ugly head in early February of this year the world had no idea of its impact. Most people had never heard of Wuhan, China before the spring of 2020. Now we find that without a shot being fired or a bomb being dropped, in just a few months, our culture has been dramatically changed and transformed. The biggest problem is that this is not over. The number of people expecting things to revert to the way they were is rapidly declining. This makes predicting or imagining the future even more difficult to fathom.
NASA Releases Specialized Aerial Shot Showing Extent Of Damage In Beirut
Sun, 09 Aug 2020 19:35:00 +0000
NASA Releases Specialized Aerial Shot Showing Extent Of Damage In Beirut
Tyler Durden
Sun, 08/09/2020 - 15:35
NASA has released specialized overhead imagery and analysis in the aftermath of the Aug. 4 massive Beirut port explosion.
The pictures were released by the agency's Rapid Advanced Imaging and Analysis (ARIA) team in cooperation with the Earth Observatory in Singapore, and provide satellite-derived synthetic aperture radar data which reveals the extent of the damage in and around the detonation site.
"On the attached map, the dark red points, such as those in and around the port of Beirut, represent the most severe damage," the official press release reads.
The orange areas were clearly damaged, while the yellow areas were likely to have suffered somewhat less damage, and each colored pixel represents an area of ​​30 meters.
The NASA press readout further details:
On the map, dark red pixels – like those present at and around the Port of Beirut – represent the most severe damage. Areas in orange are moderately damaged and areas in yellow are likely to have sustained somewhat less damage. Each colored pixel represents an area of 30 meters (33 yards).

Maps like this one can help identify badly damaged areas where people may need assistance. The explosion occurred near the city's port. It claimed more than 150 lives and is estimated to have caused billions of dollars' worth of damage.
Meanwhile, despite now raging protests in reaction to government negligence which allowed 2,750 metric tons of ammonium nitrate to be "stored unsafely", Lebanese President Michel Aoun has rejected calls for an international investigation as a "waste of time".
"The goal of calls for an international investigation in the port case is to waste time," the President's media office cited him as saying.
Faculty, Students Across US Stage "Die-Ins" To Protest Return To Campus
Sun, 09 Aug 2020 19:10:00 +0000
Faculty, Students Across US Stage "Die-Ins" To Protest Return To Campus
Tyler Durden
Sun, 08/09/2020 - 15:10
Authored by Ben Zeisloft via Campus Reform,
As the fall semester approaches, students from universities across the United States are holding protests, marches, and "die-ins" to denounce the return of in-person classes. 
Most American universities are entering the fall semester under a hybrid model of virtual learning and in-person instruction. However, student activists believe that these decisions are motivated by money- not the health and well-being of students.
Protesters are correct in assuming that there are financial consequences for universities moving to only online instruction. Postsecondary institutions across the United States are watching their summer and fall enrollment plummet as they adapt to virtual learning. Many are laying off faculty and cutting budgets by as much as 25 percent.
Campus Reform previously reported on a "die-in" held at Pennsylvania State University's main campus. Students held gravestone-shaped signs bearing phrases like "HOW MANY LIVE$?," alluding to Penn State administrators allegedly choosing profits over students' safety. 
Another sign said read "one death is too many."
The students listed their demands, chanted "2, 4, 6, 8, we don't wanna go back to State," and laid on the ground for 14 minutes to represent the 140,000 coronavirus-related deaths in the United States up to that point.
More recently, at the University of North Carolina, the "Anti-Racist Grad Worker Collective" hosted a die-in Wednesday afternoon.
Once again, students held signs in the shape of tombstones. One said "academia kills us." Another said "Tar heel born, COVID dead."
One grad student participant called UNC a "fucking death cult" on Twitter.
On Thursday, students and faculty at the University of Georgia held a die-in along the walkway leading to UGA President Jere Morehead's office. Students held gravestone-shaped signs saying "RIP Campus Safety." 
At the University of Oklahoma, students and faculty held a "die-in" in late July to protest that school's planned return to campus. KFOR-TV captured images of protesters holding signs that read "no deaths for tuition dollar$," "we are not disposable," as well as gravestone shaped signs reading "RIP Victim of OU Administration."
The protests come as polls have shown that the majority of students prefer in-person classes over online courses, but do not trust their universities to protect students if they reopen for the fall. 
A College Pulse poll found that 52 percent of students do not trust schools' ability to facilitate their safe return to campus. 
In April - when much was still unknown about the lethality of COVID-19 - polls showed that up to 90 percent of college students considered online learning "worse or much worse" than conventional, in-person classes.
HHS Chief Alex Azar Lands In Taiwan For "Historic" Visit As Beijing Slams US "Betrayal"
Sun, 09 Aug 2020 18:45:00 +0000
HHS Chief Alex Azar Lands In Taiwan For "Historic" Visit As Beijing Slams US "Betrayal"
Tyler Durden
Sun, 08/09/2020 - 14:45
Department of Health and Human Services Secretary Alex Azar arrived in Taiwan on Sunday, marking the Trump Administration's latest direct challenge to the "One China" policy that has served as the bedrock for the US-China bilateral relationship since the early 1970s.
Azar is the first cabinet-level official to visit Taiwan in six years, and the highest level US official to visit the island since 1979.
To be sure, Trump has been undermining the policy, which dictates that Taiwan is merely a wayward province of the PRC, which is autonomous - for the time being. But in early 2019, President Xi declared during a historic speech to the Party, and the Chinese people, that Taiwan would be brought back under Beijing's sway, either by diplomacy, or violence, if need be. And any foreign powers who get int the way of that risk invoking the wrath of the Chinese people.
Beijing has already protested Azar's visit as a betrayal of America's commitments not to have official contact with Taiwan.
As military exercises ramp up in the region, President Xi probably watched footage of Azar disembarking in Taipei on Sunday with rising fury. Azar landed in Taipei and was greeted by William Brent Christensen, the Director of the American Institute in Taiwan, a sort of de facto diplomatic mission, and by Taiwan's Deputy Foreign Minister Tien Ching-kwang, according to a Reuters report.
The trip comes during a battle over the fate of TikTok which has ensnared both Beijing and Washington, and comes as Trump has been antagonizing China on every available front, from human rights, to corporate espionage and "national security", Chinese companies trading on US exchanges, and - of course- control of the South China Sea.
Any sign that that any foreign power - especially the US - is treating Taiwan as its own sovereign state (which it effectively is) will invoke fury from Beijing, which sees "One China" as a "red line" that underscores the country's decision to join the global economic order.
Azar is supposedly on what amounts to a fact-finding mission to study Taiwan's success in handling the COVID-19 pandemic.
On Monday, the secretary is expected to sign a "health cooperation memorandum of understanding" with Taiwan, and visit the island's Center for Disease Control. He is also scheduled to meet with Taiwanese President Tsai Ing-wen, who was carried to victory by her outspoken opposition to Beijing. 
Taiwan has been globally praised for its handling of the coronavirus pandemic, and the issue even prompted a mini-crisis over including Taiwan in the WHO. With a population of 23.7 million, Taiwan has reported just 480 cases of COVID-19 and seven deaths.
Unsurprisingly, Azar and the rest of the US delegation were tested for COVID-19 upon their arrival.
rssfeedwidget.com