Blog
Showing time now available at no additional cost!
Fri, 09 Nov 2018 21:56:23 GMT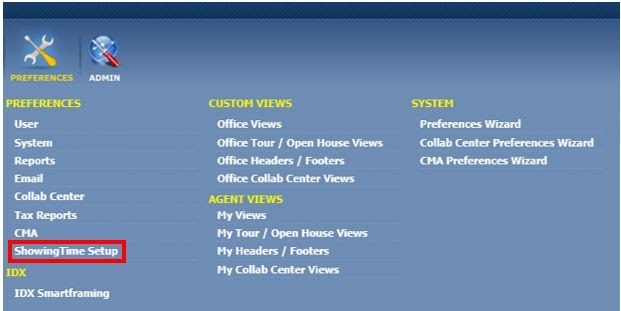 ShowingTime is now available to all CRMLS Paragon users in San Diego through PSAR.

Why should a dream listing slip through the cracks just because you couldn't get the other agent on the phone? It's 2018 – your real estate transactions shouldn't be limited by the size of your voicemail inbox.

ShowingTime allows interested potential buyers' agents to book showings through the MLS any time. The system is online 24/7, and appointments are confirmed via text, automated call, or mobile app.

How do I get ShowingTIme?

There are four ShowingTime integrations in Paragon:

1. Via Preferences > ShowingTime Setup:

PSAR endorsed candidates, propositions were Election Day winners
Fri, 09 Nov 2018 20:31:19 GMT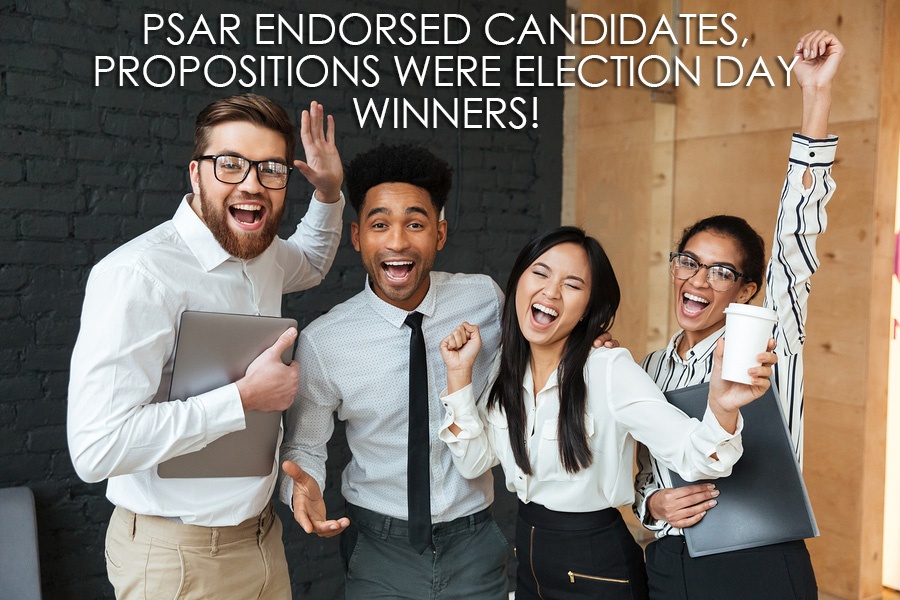 PSAR's Government Affairs Committee endorsed a number of local candidates who were winners in this week's November 6th general election. Also, PSAR was victorious in positions regarding a local proposition and statewide propositions.
Veterans' Day Announcement
Mon, 05 Nov 2018 22:24:53 GMT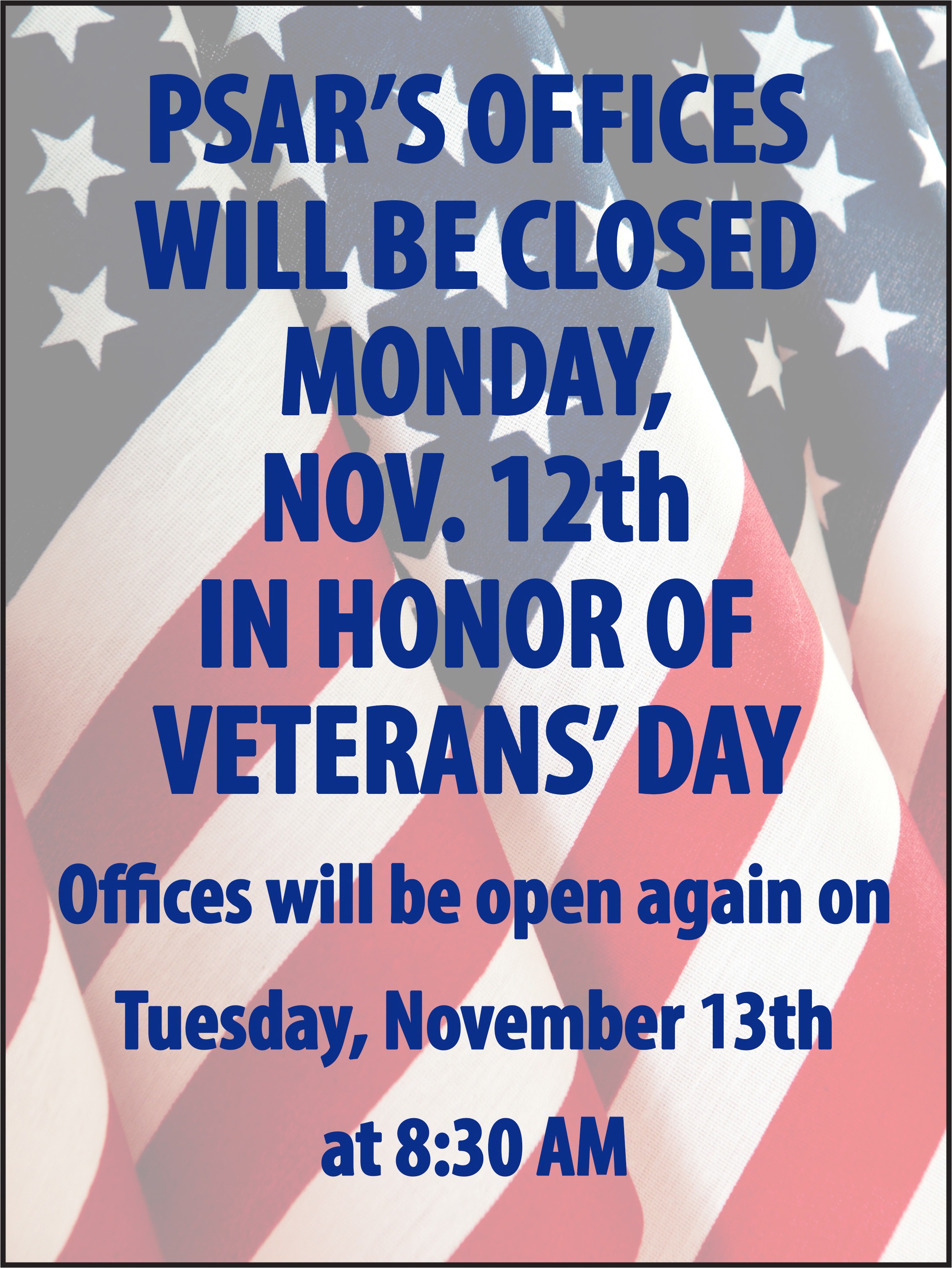 Learn the Critical Aspects of International Real Estate Transactions
Mon, 05 Nov 2018 20:26:01 GMT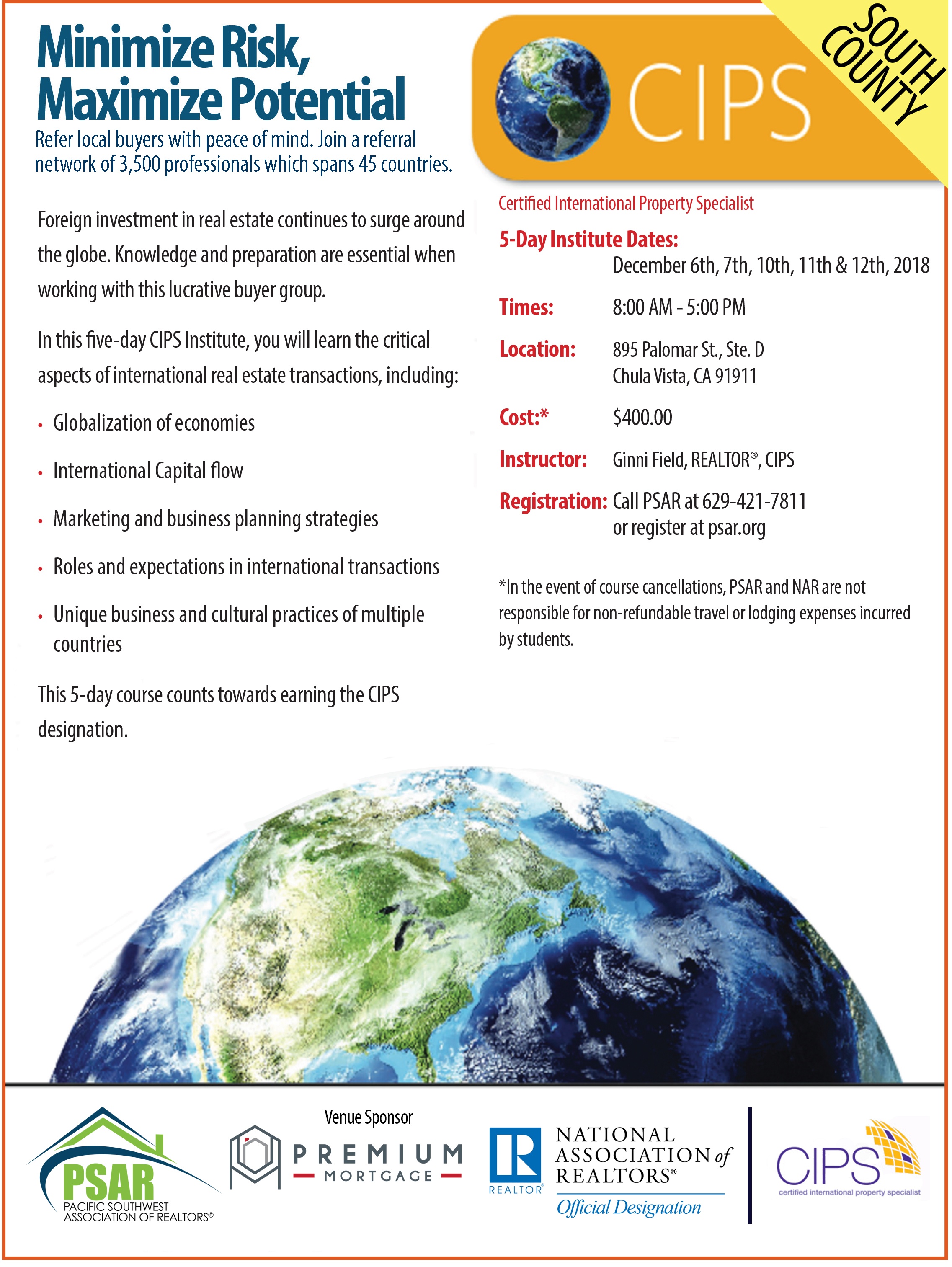 To Register for this 5-Day Course, please call 619-421-7811 or email george@psar.org.
PSAR announces endorsements for Nov. 6th general election
Fri, 02 Nov 2018 20:20:48 GMT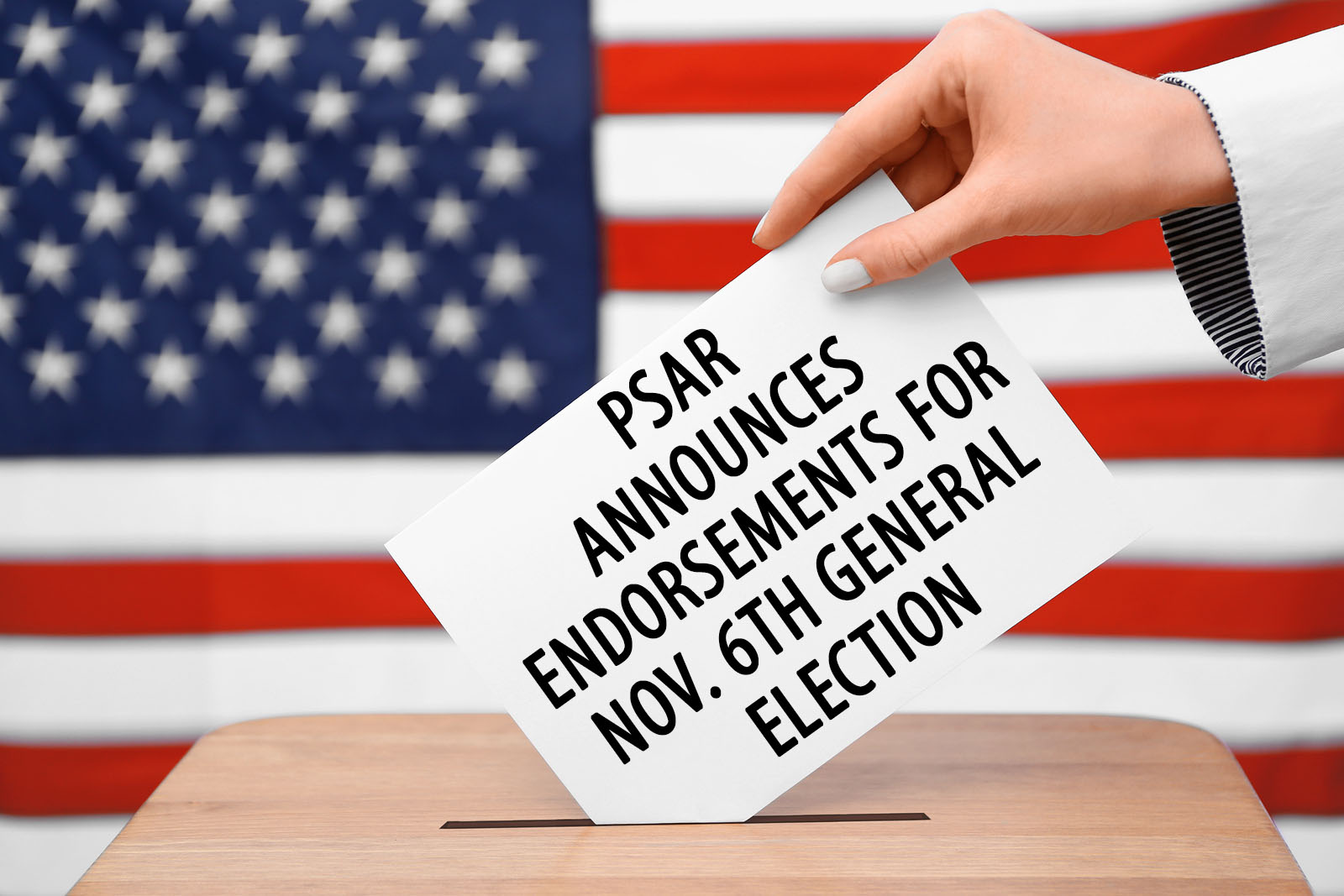 The Pacific Southwest Association of REALTORS® (PSAR) has announced its endorsement of candidates for the Nov. 6th general election. Endorsed candidates include:
Brian Jones for California State Senate 38th District


Mary Casillas Salas, Chula Vista Mayor


John McCann, Chula Vista City Council, District 1


Ditas Yamane, National City Mayor

Ron Morrison, National City City Council

Bill Wells, El Cajon Mayor

Gary Kendrick, El Cajon City Council

Mark Arapostathis, La Mesa Mayor

Guy McWhirter and Bill Baber, La Mesa City Council

Ronn Hall, Laura Rose Koval, Rob McNelis, Santee City Council

Jerry Jones, Lemon Grove City Council

Dan McMillan, Helix Water District, District 1

John Olsen, Grossmont-Cuyamaca Community College District Board of Trustees, Area 1
PSAR's Government Affairs Committee recommended the endorsements to the board of directors, which then ratified the recommendation. The Government Affairs Committee is involved in political advocacy and public policy and its impact on homeownership and private property rights.

In addition, PSAR is recommending the following:
"No" on Measure "W," Rent Control in National City. If approved, Measure W would put a 5 percent limit on annual rent increases and ban certain types of evictions, making it tougher to evict problematic renters.
PSAR believes rent control reduces the quality and quantity of housing. Typically, rent control leads to reducing available rentals and landlords skimping on repairs. Rent control eliminates incentives for landlords and property owners to fix up, or invest in, their units, as well as discourages new housing construction and decreases the number of available rental units. Vote "No" on "W."

"Yes" on California Proposition 5, Property Tax Transfer Fairness Initiative. If approved, Prop. 5 would allow homeowners over ages 55 to transfer their lower property tax rates to a newly bought home anywhere in the state. A couple, for example, could sell a home assessed at $250,000 for $750,000 then buy another property for $750,000 and continue to pay property taxes at the $250,000 valuation. If the new home cost more or less, property tax would be adjusted based on simple formulas that continued the property tax breaks that residents enjoyed with their previous homes.
PSAR believes this measure would create new homeownership opportunities by generating more sales of single-family homes in existing neighborhoods. This will benefit young families at a time when California faces a severe shortage of homes for sale. Prop. 5 is actually a smart idea that will both give older people more flexibility with their lives and introduce liquidity to a housing market that could badly use it. The revenue it would cost local government is relatively small. Also, Prop. 5 is a common sense way to expand the benefits of Proposition 13 protections while providing more affordable housing.

Prop. 5 was initiated by the California Association of REALTORS® (C.A.R.). C.A.R. qualified the measure for the ballot after it submitted nearly 1 million voter signatures to the Secretary of State's office, indicating strong voter support. Vote "Yes" on Prop. 5.

"No" on California Proposition 10, Local Rent Control Initiative. If approved, Prop. 10 would overturn an existing state law blocking cities from imposing rent control on rental units built after 1995 and on all single-family homes and condominiums. Repealing the longstanding Costa-Hawkins Rental Housing Act would exacerbate the housing crisis, eventually allowing local governments to impose draconian rent control measures. If approved, unelected bureaucrats would oversee rent control ordinances and determine how much landlords could charge tenants for renting apartments and houses.
PSAR believes Prop. 10 is a flawed rent control initiative that would make housing more expensive, not less, and worsen the housing crisis. Vote "No" on Prop. 10.
In addition to positions on Prop. 5 and Prop. 10, C.A.R. is supporting Proposition 1, the Housing Programs and Veterans' Loans Bond. A "yes" vote on this measure would authorize the state to borrow up to $4 billion in general obligation bonds for housing-related programs benefiting veterans. If approved, additional affordable housing would be provided for veterans. The vast majority of the bonds, about $3 billion, would be set aside for various types of housing programs. The biggest share, or $1.5 billion, would go toward the construction and rehabilitation of permanent and transitional rental housing and apartments for California households who earn of up to 60 percent of the area median income. The second biggest portion of the $3 billion, about $150 million, would be earmarked for cities, counties, transit agencies, and developers to build higher density housing near transit stations. The remaining $1 billion would be earmarked for veterans participating in a home loan program. In addition to C.A.R., Prop. 1 has support from major California newspapers, including the San Francisco Chronicle, Los Angeles Times, and Sacramento Bee, as well as the League of Women Voters and Democratic state lawmakers.
PSAR'S OFFICIAL VOTER GUIDE
Sat, 27 Oct 2018 00:13:23 GMT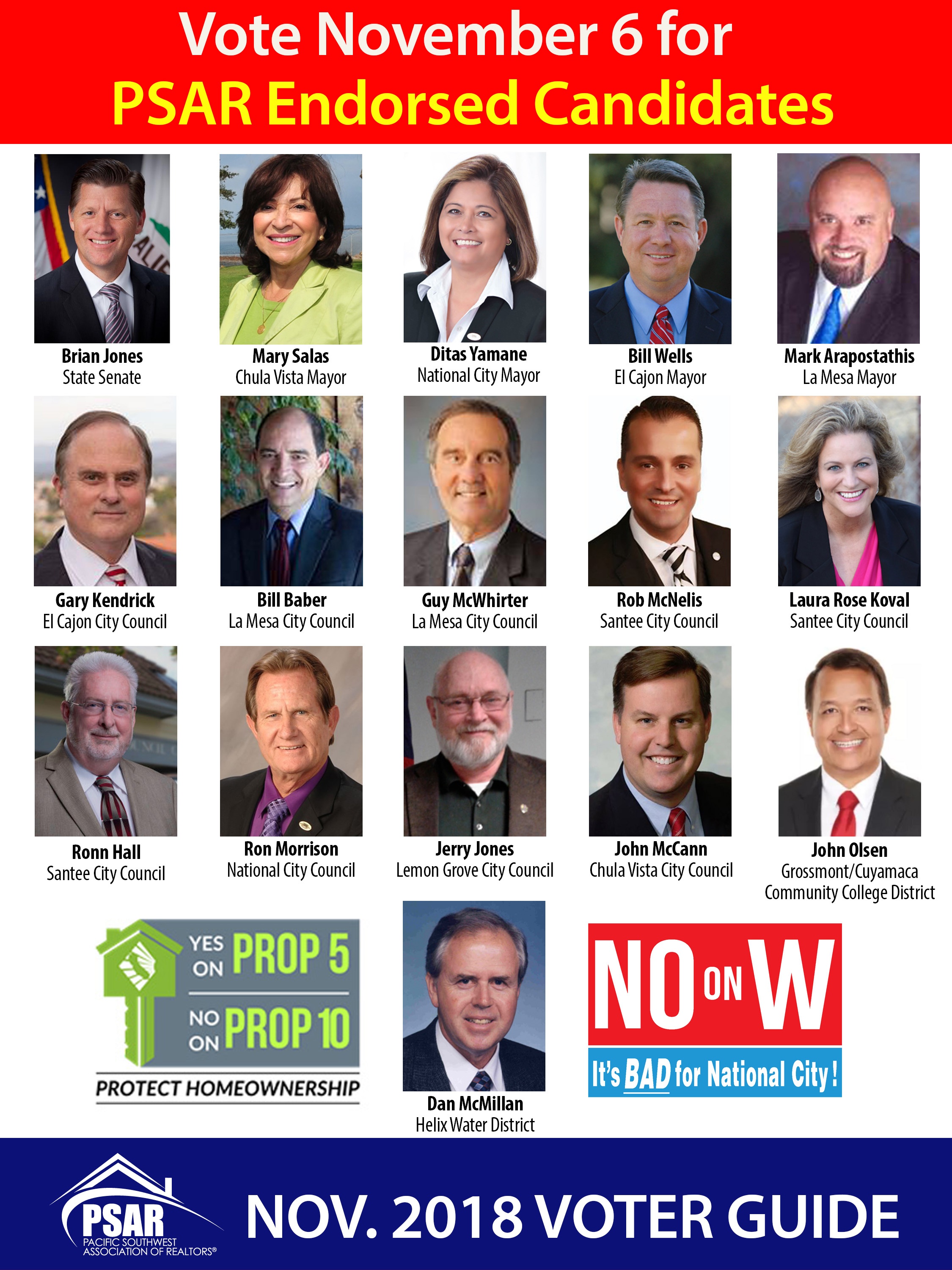 Get out the Vote!
PSAR recommended the endorsements to the board of directors, which then ratified the recommendation. The Government Affairs Committee is involved in political advocacy and public policy and its impact on home-ownership and private property rights.
Housing Market is Cooling, Inventory Rising, Buyers are Waiting
Fri, 26 Oct 2018 23:32:22 GMT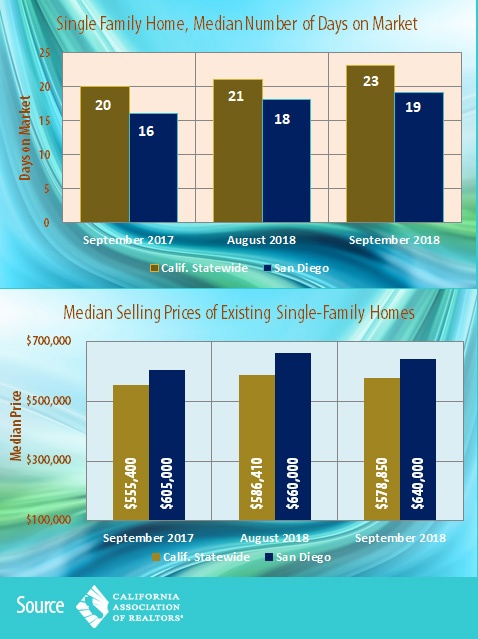 California's housing market "continued to deteriorate" in September, according to the latest housing market report from the California Association of REALTORS® (C.A.R). Mortgage rates remain affordable while demand for existing homes is slowing, home prices are rising at a slower rate and a tight supply of available homes, still low, is increasing.

In September, C.A.R. said the state's housing market posted its largest year-over-year sales decline since March 2014. In addition, home sales remained below the 400,000-level sales benchmark for the second consecutive month, indicating that the market is slowing as many potential buyers put their homeownership plans on hold.

C.A.R. said September's statewide median home price dropped to $578,850 in September. The September 2018 statewide median price was down 2.9 percent from $596,410 in August 2018 but up 4.2 percent from a revised $555,400 in September 2017.

In San Diego County, the median price of a single-family home in San Diego County was $640,000 in September 2018, up from $605,000 during the same month a year ago, according to CAR. The median price in September 2018 was down 3 percent from $660,000 in August 2018.

Closed escrow sales of existing, single-family detached homes in California totaled a seasonally adjusted annualized rate of 382,550 units in September, according to information collected by C.A.R. from more than 90 local REALTOR® associations and MLSs statewide. The statewide annualized sales figure represents what would be the total number of homes sold during 2018 if sales maintained the September pace throughout the year. It is adjusted to account for seasonal factors that typically influence home sales.

"The housing market continued to deteriorate and the decline in sales worsened as interest rates remained on an upward trend," said C.A.R. President Steve White. "More would-be buyers are self-sidelining as they believe home prices will start to come down soon, making housing more affordable despite rising interest rates. Tax reform, which increases the cost of homeownership, also is contributing to the decline, especially in high-cost areas such as the San Francisco Bay Area and Orange County."
"Price appreciations have slowed in the last few months and inventory has risen considerably since June when the statewide median price hit a new peak," said C.A.R. Senior Vice President and Chief Economist Leslie Appleton-Young. "Buyers are becoming increasingly concerned about market developments and are reluctant to purchase at the prevailing market price. As such, the deceleration in price growth will likely continue in coming months."

Other key points from C.A.R.'s September 2018 resale housing report included:
Live group review for the Cal DRE License Renewal
Mon, 22 Oct 2018 21:36:20 GMT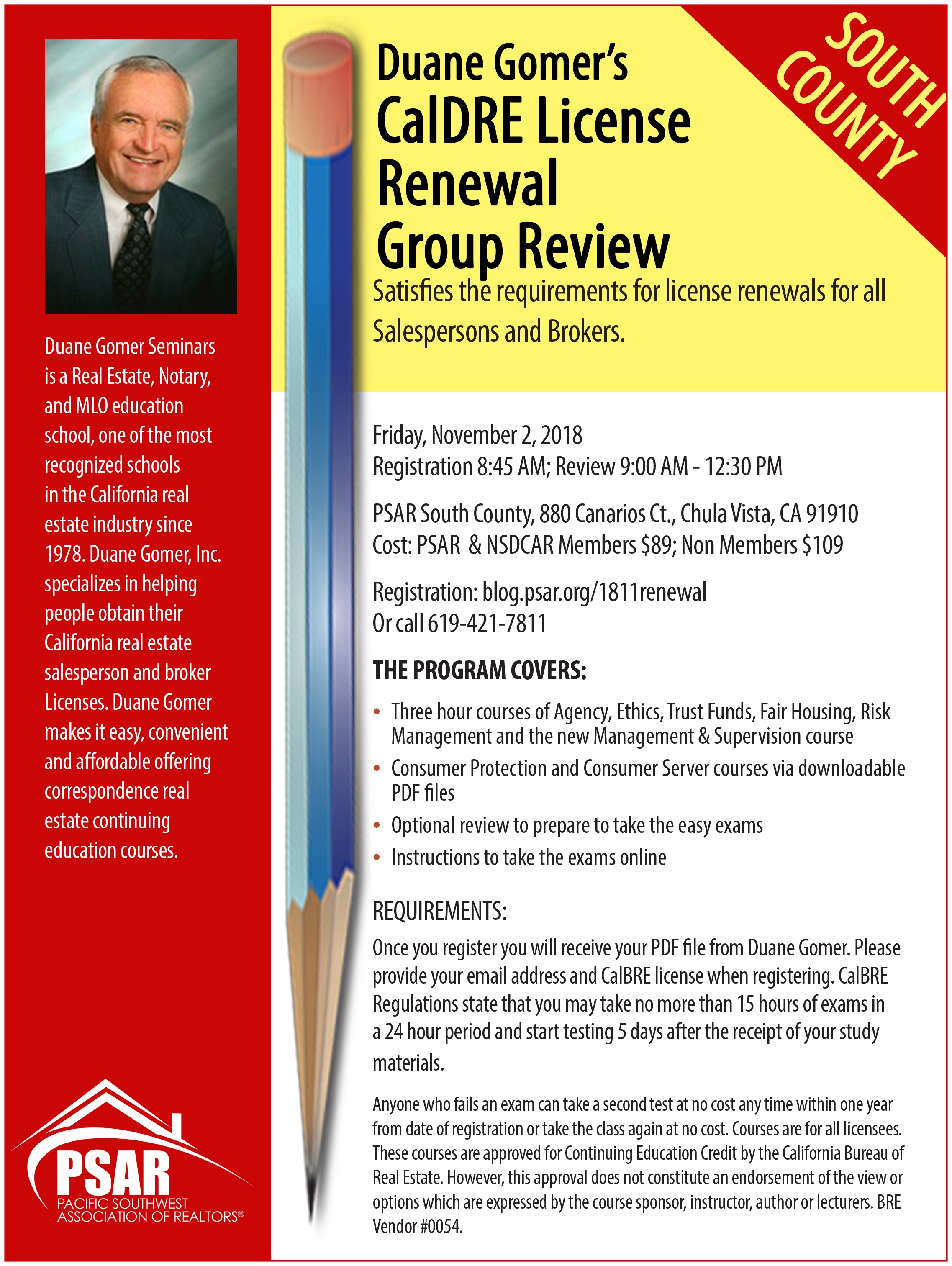 Fabulous Gathering Awaits PSAR Members at Installation Dinner on Nov. 9th
Fri, 19 Oct 2018 20:49:27 GMT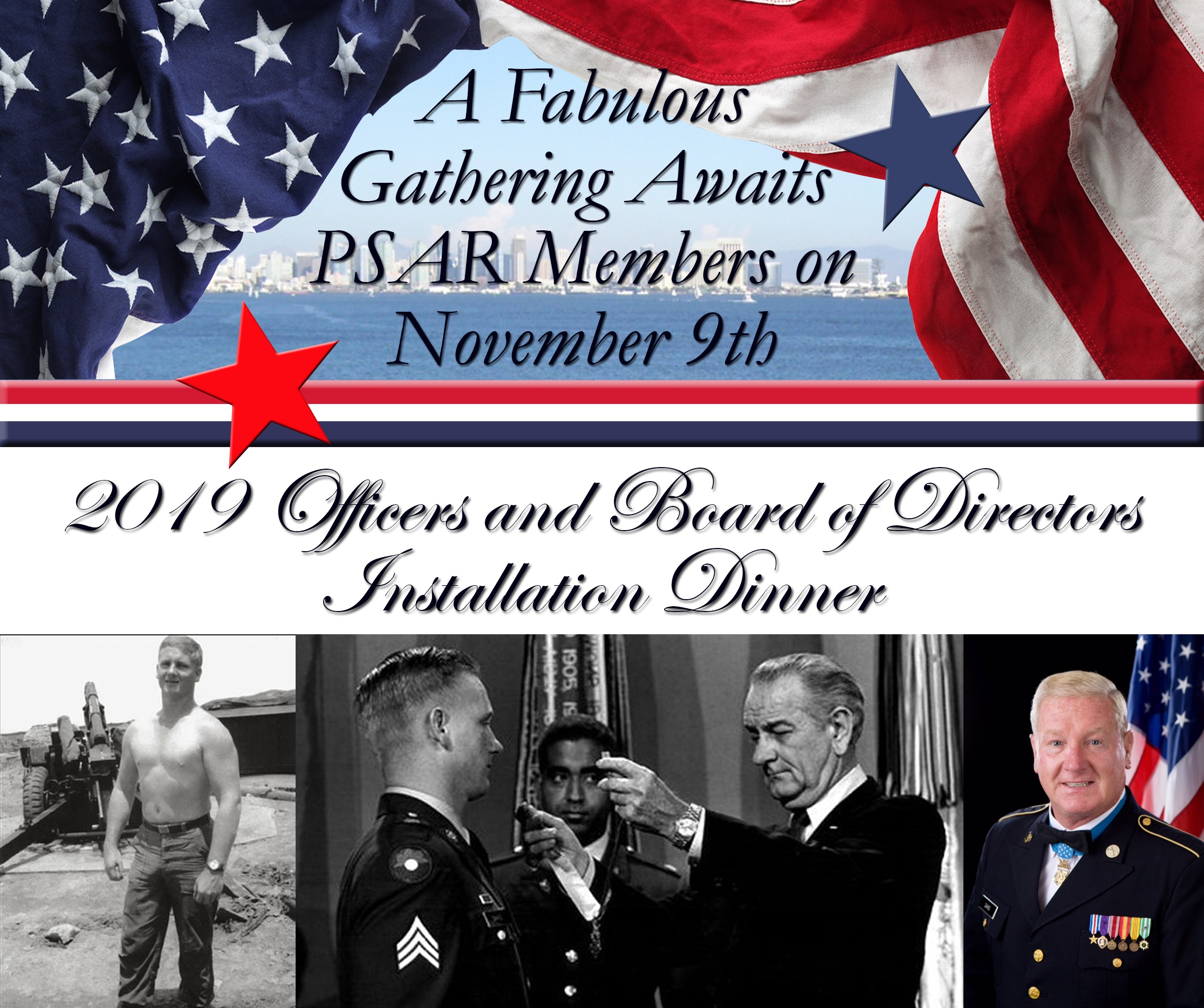 It will be an unforgettable experience that you don't want to miss. PSAR will present its 2019 Officers and Directors Installation Dinner on Friday, Nov. 9, at the Admiral Kidd Conference Center, 33050 McDonough Road, San Diego, 92136 (some GPS devices may show the address as 33050 Acoustic Ave.).

Bigger and better than ever, this year's Installation Dinner is destined to be the biggest real estate event of the year, as we welcome the 2019 board of directors in this exclusive venue. Located on military property on Naval Base Point Loma at the Harbor Drive Annex, the Admiral Kidd Conference Center is virtually surrounded by the splendor of the San Diego Bay and downtown skyline and offers breathtaking views of the San Diego Bay. The facility features a lovely lawn setting and a deck overlooking the bay.

The installation event will celebrate success in the REALTOR® community with the top producers in the industry. The program will feature the swearing in of the 2019 PSAR board of directors including Robert Calloway as 2019 PSAR president. Also announced will be winners of the East County Realtor of the Year, South County Realtor of the Year, East County Affiliate of the Year and South County Affiliate of the Year. Additional awards will include Broker-Office Manager of the Year for both East County and South County.

Don't be late. Networking with colleagues and industry peers will start at 6 p.m. Stella Artois premium beer and wine (Chardonnay and Cabernet Sauvignon) will be hosted. This will be your opportunity to reconnect with old friends and engage with new friends, raising your profile, expanding your influence, telling your story and generating referrals and greater business.

Dinner will begin at 7 p.m. Farmer's table appetizer display will include assorted cheese and crackers and veggie display. Hors-d'oeuvres will be passed. Hors-d'oeuvres will include fresh roasted tomato bruschetta, smoked salmon and cucumber roulade, bacon wrapped scallops and beef empanadas. Plated dinners choices will include chicken Marsala (breast of chicken simmered in rosemary Marsala wine sauce), grilled New York steak (with carmelized onions and a rich bordelaise sauce) or vegetarian (pasta primavera). Chardonnay and Pinot Noir wine will be served with dinner.

Tickets are priced at $85 per person, which is a tremendous bargain. RSVPs can be made at blog.psar.org/installation. Sponsorship opportunities are still available for this special night. Several different affordable sponsorship opportunities are currently being offered. This is a prime advertising opportunity to situate your brand in front of other industry professionals and get the attention your brand deserves. More sponsorship information is available by contacting Sally Valdez at PSAR at (619) 579-0333.

Special guest speaker at the PSAR Installation Dinner will be Sammy Lee Davis, a veteran who served in the U.S. Army during the Vietnam War and was awarded the nation's highest military medal for valor, the Medal of Honor.

Davis took some ribbing in the Army because he shared a name with the famous entertainer. Much later, long after his military days were over, he would again gain some acclaim among his old comrades, this time as the "real Forrest Gump." That's because news footage of Davis receiving the Medal of Honor from President Lyndon B. Johnson appeared in the 1994 "Forrest Gump" motion picture with Tom Hanks' head in place of Davis. Gump's functional Medal of Honor citation was loosely based on Davis' real one.

Early on November 18, 1967, his unit of 11 guns and 42 men were transported via helicopter into an area west of Cai Lay to set up a forward fire-support base. Shortly after midnight the next morning, Private First Class Davis's Battery C came under heavy mortar attack. Almost simultaneously, an estimated 1,500 Vietcong soldiers launched an intense ground assault, failing to overrun the Americans only because a river separated the two forces. Davis's squad was operating a 105 mm howitzer that fired 18,000 beehive darts in each shell. When he saw how close the enemy had come, Davis took over a machine gun and provided covering-fire for his gun crew. But an enemy recoilless rifle round scored a direct hit on the howitzer, knocking the crew from the weapon and blowing Davis sideways into a foxhole.

Convinced that the heavily outnumbered Americans couldn't survive the attack, Davis decided to fire off at least one round from the damaged artillery piece before being overrun. He struggled to his feet, rammed a shell into the gun, and fired point-blank at the Vietcong who were advancing five deep directly in front of the weapon; the beehive round cut them down. An enemy mortar round exploded nearby, knocking Davis to the ground, but he got up and kept firing the howitzer. When there were no more rounds left, he fired a white phosphorus shell, and then the last round he had a "propaganda shell" filled with leaflets. On Nov. 19, 1968, exactly one year and one day after the nightlong firefight at Cai Lay, Davis received the Medal of Honor from President Lyndon Johnson.

Davis is the author of "You Don't Lose 'Til You Quit Trying: Lessons on Adversity and Victory from a Vietnam Veteran and Medal of Honor Recipient." The book is available on Amazon.
rssfeedwidget.com