Twitter Search / ELACWC
@ELACWC will be open until 12am M-Th from 12/2-12/12. We will also be open until 6pm on Friday 12/6. We will have free coffee while supplies last!!pic.twitter.com/t0dYJBY2ON
Wed, 20 Nov 2019 03:08:05 +0000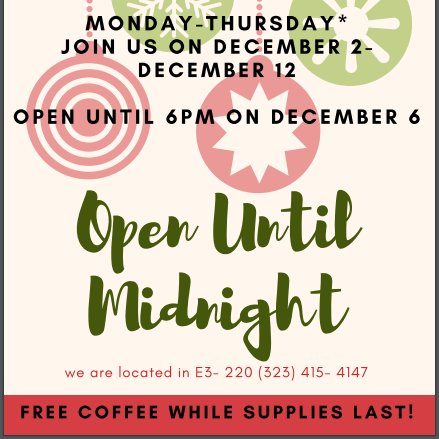 Whoever said you can't work and have fun at the same time? Las Tres M's don't think so!!! Come on down to the Writing Center and enjoy our extended hours (open from 7:30 am - 12:00 am ) and free coffee! (while supplies last). https://www.instagram.com/p/B5rl_Jwg7JZ/?igshid=332gitzhtbdx …
Thu, 05 Dec 2019 06:54:45 +0000
https://www.instagram.com/p/B5oqkiXgeRz/?igshid=1imtb4qrf52n7 … Time to study for finals!! Bring your current ELAC student ID (or ID from any college within LACCD) and stay until midnight. Free coffee!! (while supplies last)
Wed, 04 Dec 2019 06:46:24 +0000
Make an appointment today! https://elactutoring.org/portal/readingwritingcenter-appointments/main-page/appointment-length/ …pic.twitter.com/7dzZqcFCcp
Fri, 27 Sep 2019 03:41:02 +0100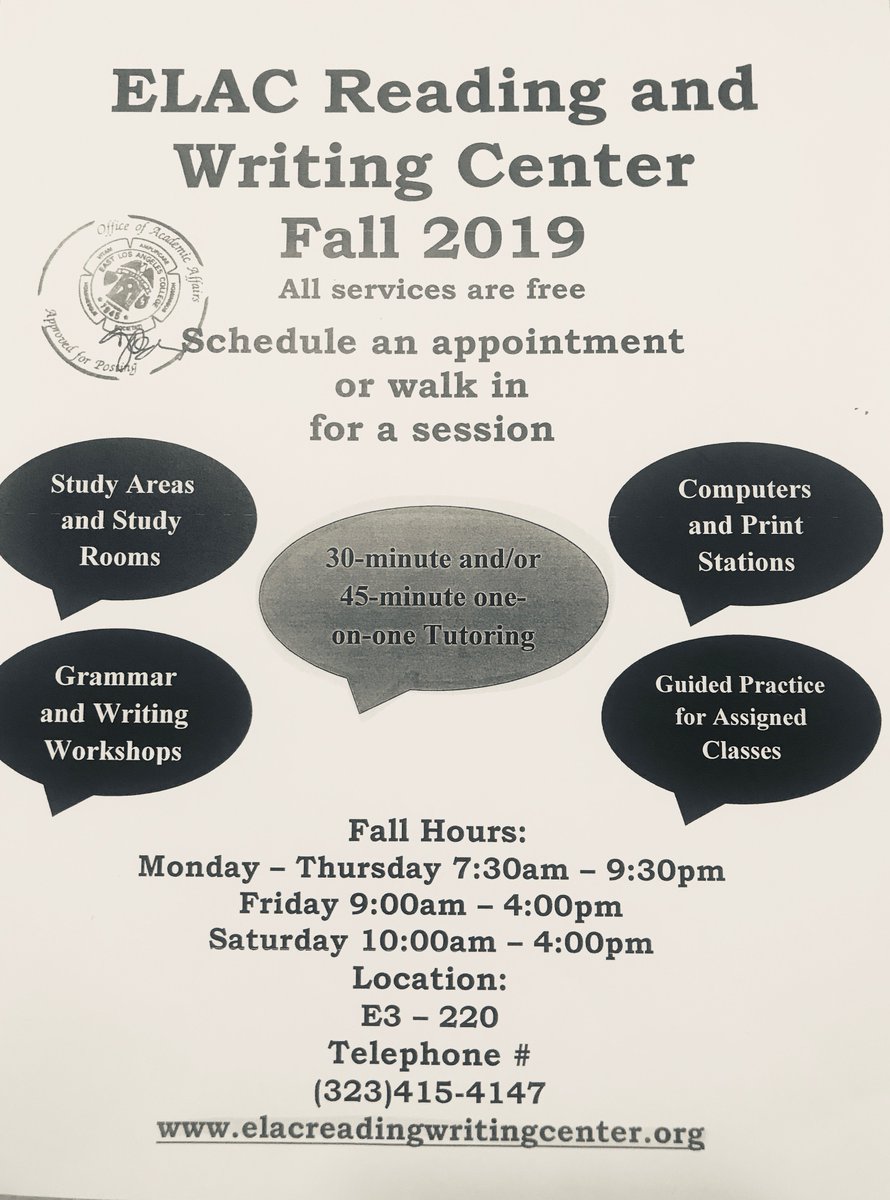 Welcome back, Huskies! @ELACWC will be open: Monday-Thursday 7:30am-9:30pm Friday 9-2pm Saturday 10am-4pm Study groups are welcome! Bring your Student I.D. (The Center is subject to close due to low attendance, so come get out of the sun and get some studying done!)
Fri, 30 Aug 2019 00:06:59 +0100
Welcome back, Huskies! Summer session is in full swing, and we will be open 7:30am-6pm Monday-Thursday and 9-2pm Friday. Study groups are welcome! (The Reading and Writing Center is subject to close due to low attendance, so come get out of the sun and get some studying done!)
Wed, 12 Jun 2019 20:35:49 +0100
Stop by tonight! We are open until midnight, and we have free coffee :)
Wed, 29 May 2019 06:20:19 +0100
Ready for final? Come on down!pic.twitter.com/tQ3oBmnBG1
Tue, 14 May 2019 23:01:17 +0100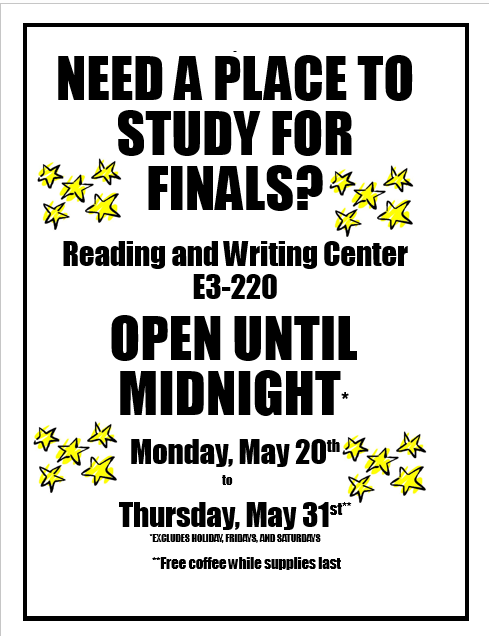 Have a great Spring Break, Huskies! We will resume normal hours of operation on Monday, April 8th.
Thu, 28 Mar 2019 02:15:34 +0000
If you need to study, meet with your study group, see a tutor, use a computer, or take break from the weather, come out to @ELACWC We are open Monday-Thursday from 7:30am-9:30pm and Friday-Saturday from 10-4pm
Tue, 12 Feb 2019 01:38:30 +0000
Need a place to study? Come to @ELACWC Good luck on finals this Thursday!
Tue, 29 Jan 2019 20:36:18 +0000
First day of Winter session. Welcome back, Huskies! The Reading and Writing Center will be open Monday-Thursday 8am-8pm*, Friday 8am-4pm*, and Saturday 10am-4pm*. *Subject to closing early on days with low student attendance, so bring your friends so we don't close early :)
Wed, 02 Jan 2019 21:35:09 +0000
OPEN UNTIL MIDNIGHT!!!! COMPLIMENTARY COFFEE, TEA, AND ENERGY DRINKS FOR OUR NIGHT OWLS.pic.twitter.com/naDo8sKWKp
Thu, 06 Dec 2018 06:33:53 +0000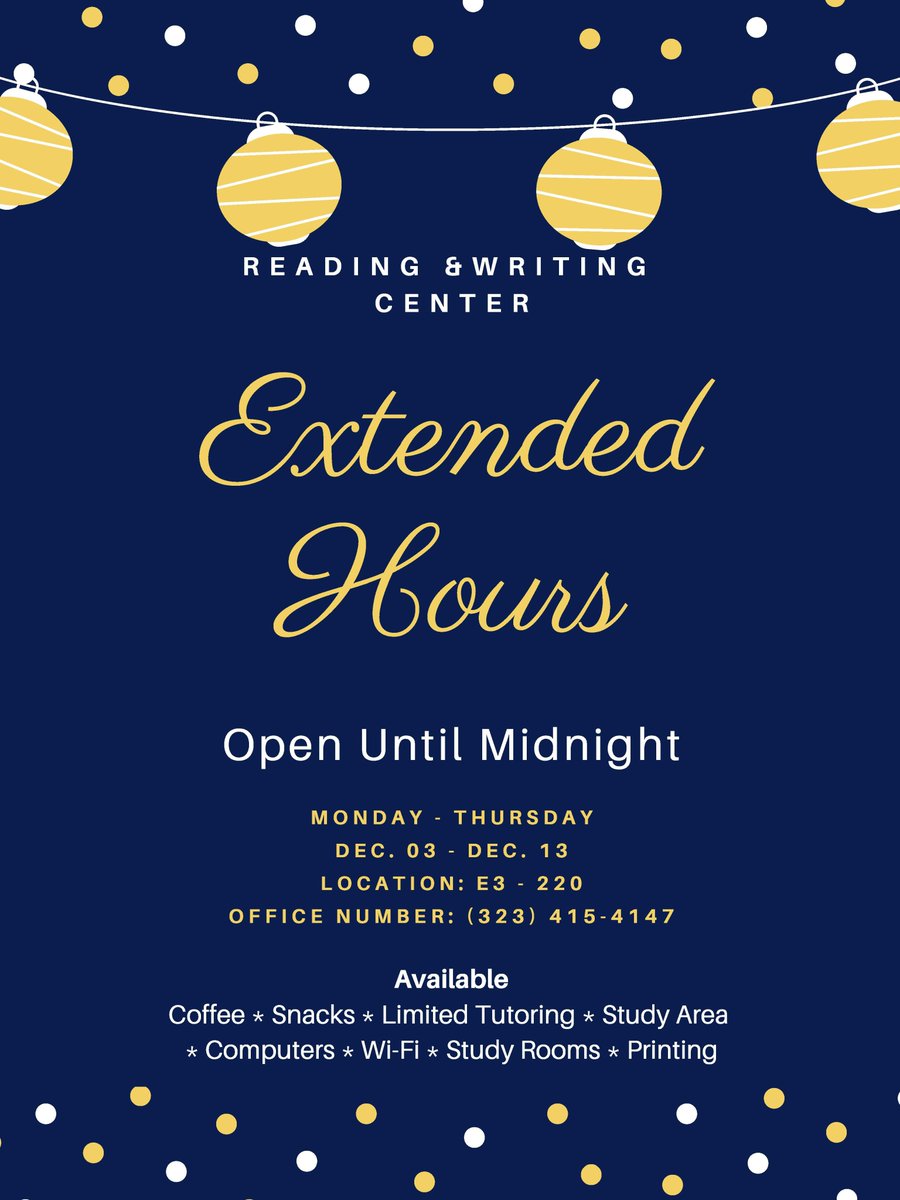 We are open for Summer! Including Fridays AND SATURDAYS!!! — feeling fantastic
Thu, 14 Jun 2018 23:45:25 +0100
Good Morning Students! We just wanted to Congratulate our prize winners: Job, Mario, and Giovanni! We hope you enjoy your new ELAC Jansport Backpacks All students are welcome to participate in our... https://www.facebook.com/elacreadingwritingcenter/posts/1662222057191042 …
Tue, 27 Mar 2018 16:26:45 +0100
Good morning Huskies As a token of our appreciation, we are giving away FREE goodies to the students who... https://fb.me/HUbyXhbl 
Tue, 13 Feb 2018 19:55:05 +0000
Week 5 Workshop Schedule http://fb.me/vBqZIaCt 
Mon, 10 Jul 2017 18:40:15 +0100
Need a place to study? http://fb.me/vE1mbrAU 
Thu, 06 Jul 2017 17:49:59 +0100
I posted a new photo to Facebook http://fb.me/5vXsReZBk 
Mon, 03 Jul 2017 15:40:55 +0100
Week 3 Workshop Schedule http://fb.me/1pbnEJW40 
Tue, 27 Jun 2017 17:07:53 +0100
rssfeedwidget.com